107 Walking in Fushimi, Kyoto. ( 1 / 2 )
今回は、京都市伏見エリアの一部を歩いてみようと思います。
This time I will walk part of the Fushimi area of Kyoto City.
☆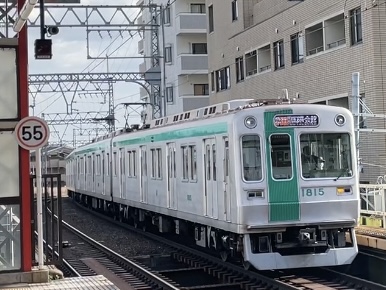 スタート地点の桃山御陵前駅までは、近鉄京都線に乗ってきました。
I took the Kintetsu Kyoto Line to Momoyama-Goryomae Station, the starting point of the tour.
☆
京阪宇治線・観月橋駅近くの踏切に来ました。
I came to a railroad crossing near Kan-Getsu-kyo Station on the Keihan Uji Line.
「観月橋」。歴史を感じるネーミングです。
"Kan" = watching, "Getsu" = moon, "Kyo" = bridge. I think the name has a historical flavor.
宇治からの電車がやってきました。踏切で見る電車は、低速走行でも迫力があります。
A train from Uji has arrived. The train seen at the crossing is powerful even when running at low speed.
☆
この踏切からは、先ほど乗ってきた近鉄京都線の澱川橋梁が見えます。
From this crossing, you can see "Yodo-gawa( = river )Bridge" of the Kintetsu Kyoto Line that I just rode on.
この鉄道橋は1928年に完成し、現在でも単純トラス橋としては日本最大の支間長があると言われています。
This railroad bridge was completed in 1928 and is still said to have the largest span length for a simple truss bridge in Japan.
☆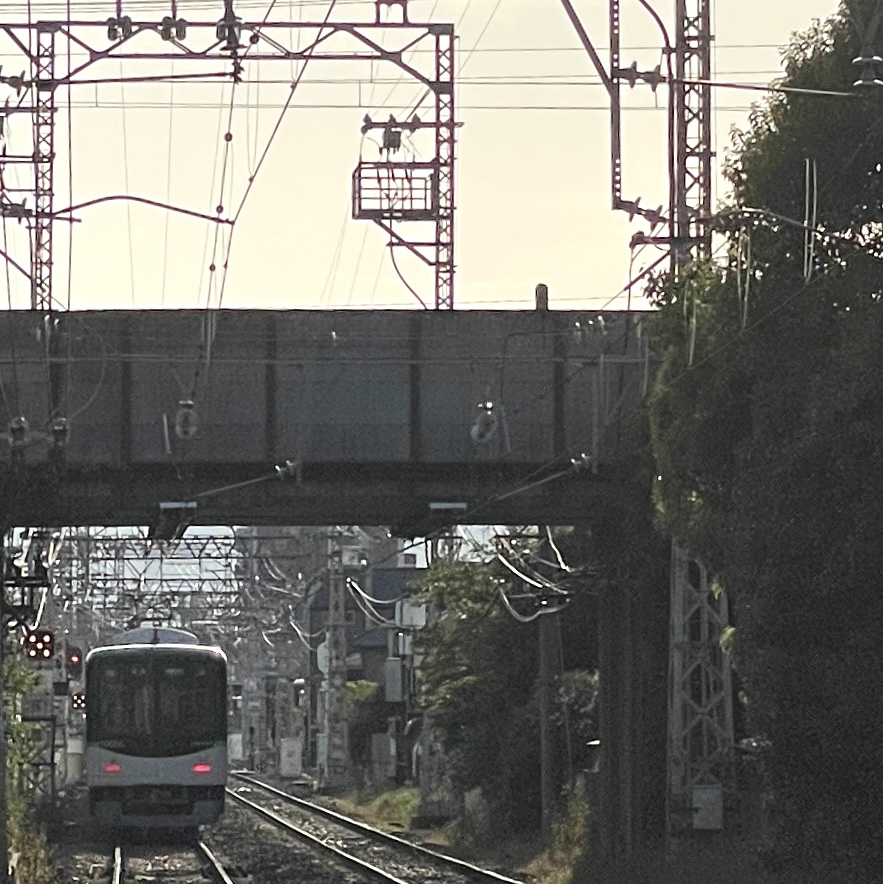 近鉄京都線と、京阪宇治線の立体交差部分です。
This is a multi-level intersection of the Kintetsu Kyoto Line and the Keihan Uji Line.
☆
先ほどの澱川橋梁と同時期に完成した、近鉄の高架部分です。
This is the elevated portion of the Kintetsu line, completed at the same time as "Yodo-gawa( = river )Bridge".
カントのない「S字カーブ」なので、制限時速は45km/hと、ゆっくりとしたスピードで走行しています。
Since it is an "S curve" with no cant, the speed limit is 45 km/h, and trains are driven at a slower speed.
☆
「けた下 制限高 1.6M」とh表示された、京阪電車の橋脚の下に入ってみました。
I entered under the piers of the Keihan Railway, which were marked "under the girder, height limit 1.6M".
電車が通過する時も、なかなかの迫力でしたが、ノーブレーキで通り過ぎる自転車を見ている方がドキドキしました。
It was quite powerful when the train passed by, but I was more nervous watching the bicycles pass by without helmets and without slowing down.
☆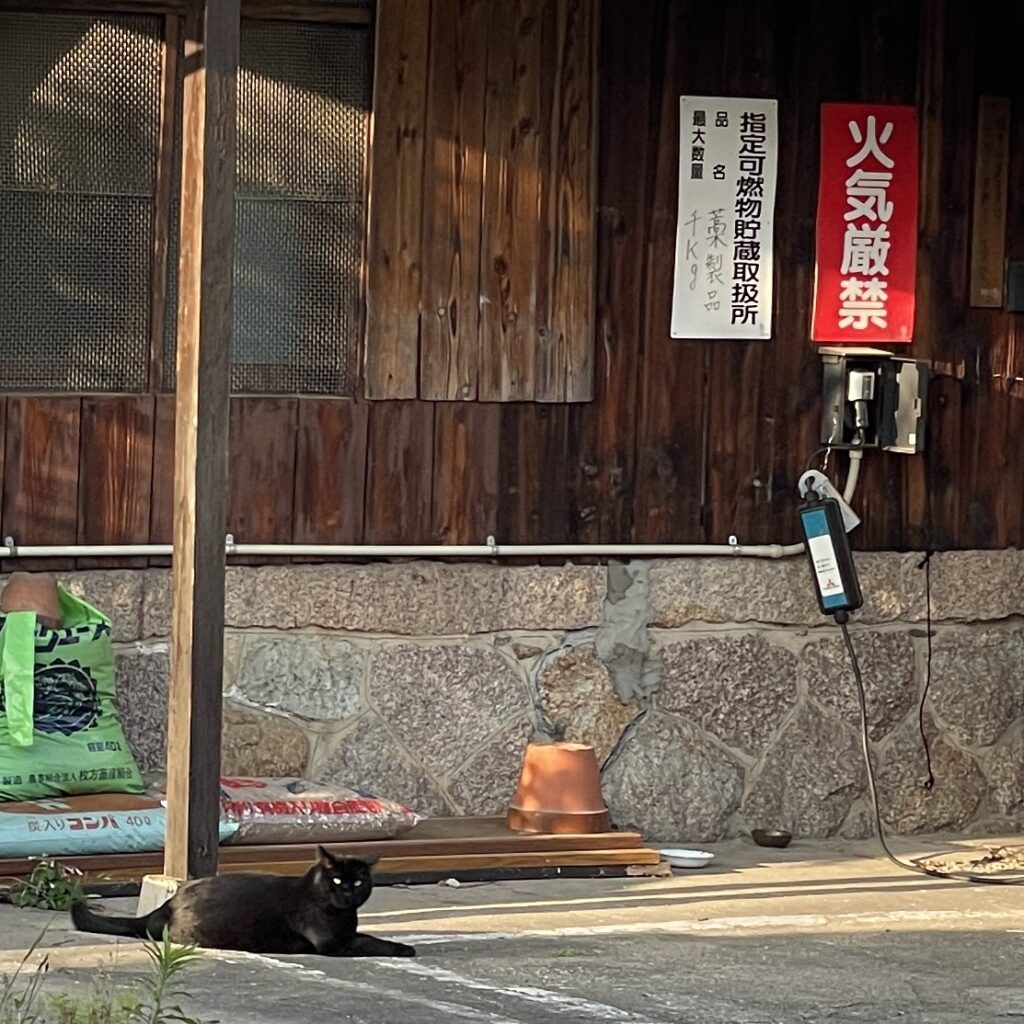 先ほどの緊張をネコに癒され、伏見散策をもう少し続けます。
The cat soothes my earlier nervousness, and I continue my Fushimi stroll some more.
☆
今回、歩いた道のりは「こちら⬇️」でした。
The route I walked this time was "here ⬇️".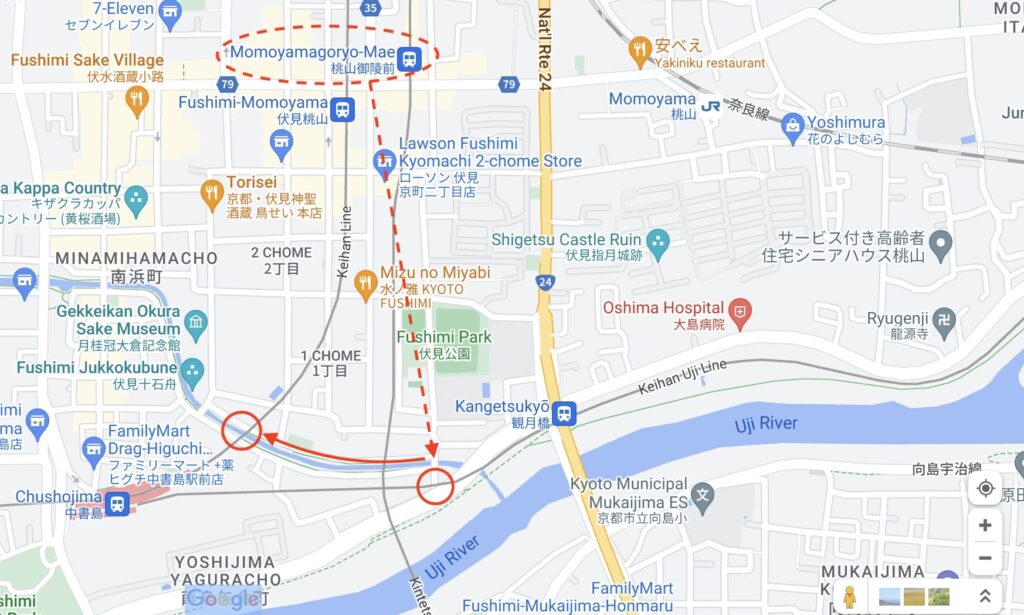 (つづく)
(to be continued)
☆
ご拝読、有難うございました。
Thank you for your reading this post.
またのお越しを、お待ちしています。
I'm looking forward to your next visit.