096 Seeking snow in Kyoto city. ( 2 / 2 )
宝ヶ池駅から乗車した列車は、途中の岩倉駅で下車しました。
The train boarded at Takaragaike Station and alighted at Iwakura Station on the way.
☆
そして岩倉駅からは、観光列車「きらら」で終点の鞍馬駅へ向かいます。
Then, from Iwakura Station, take the sightseeing train "Kirara" to the last stop, Kurama Station.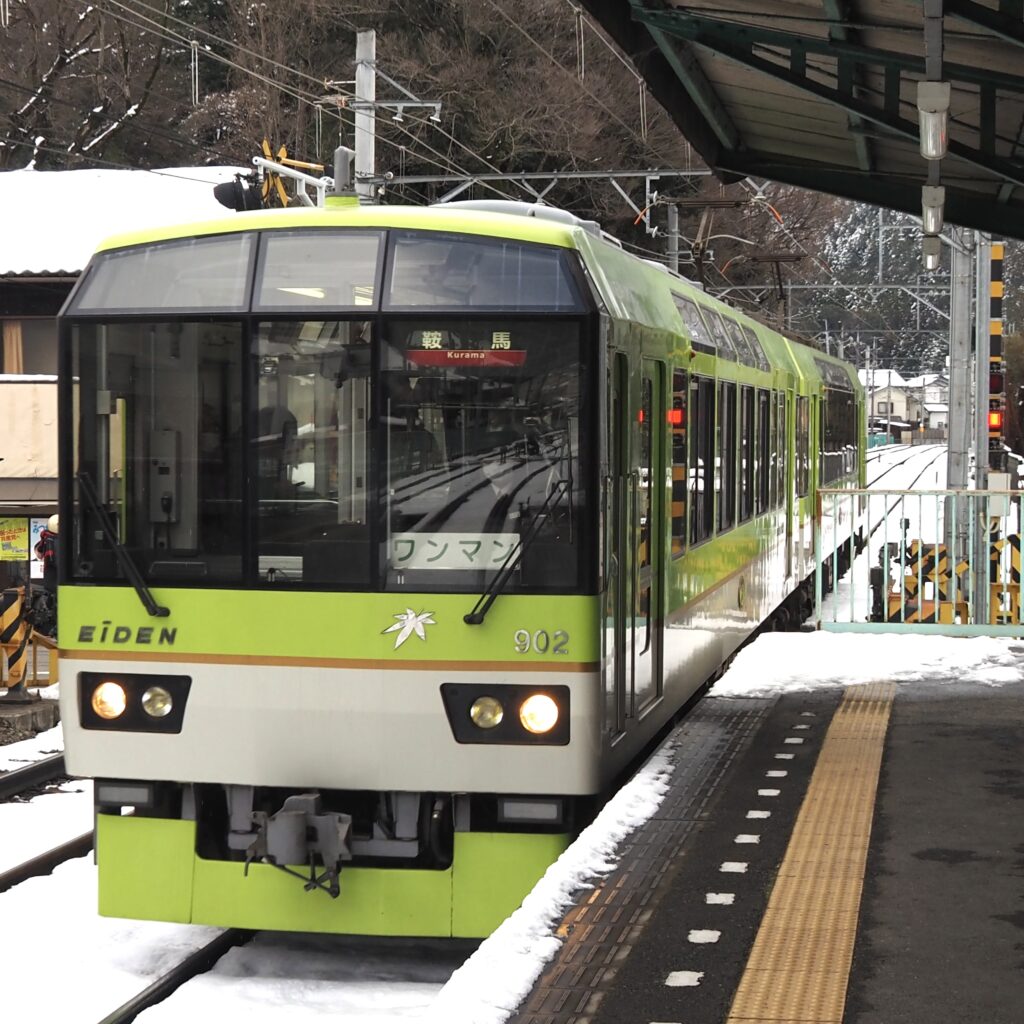 この辺りまで来ると、線路の雪もしっかりと残っています。
Around here, the snow on the railroad tracks is still firmly in place.
☆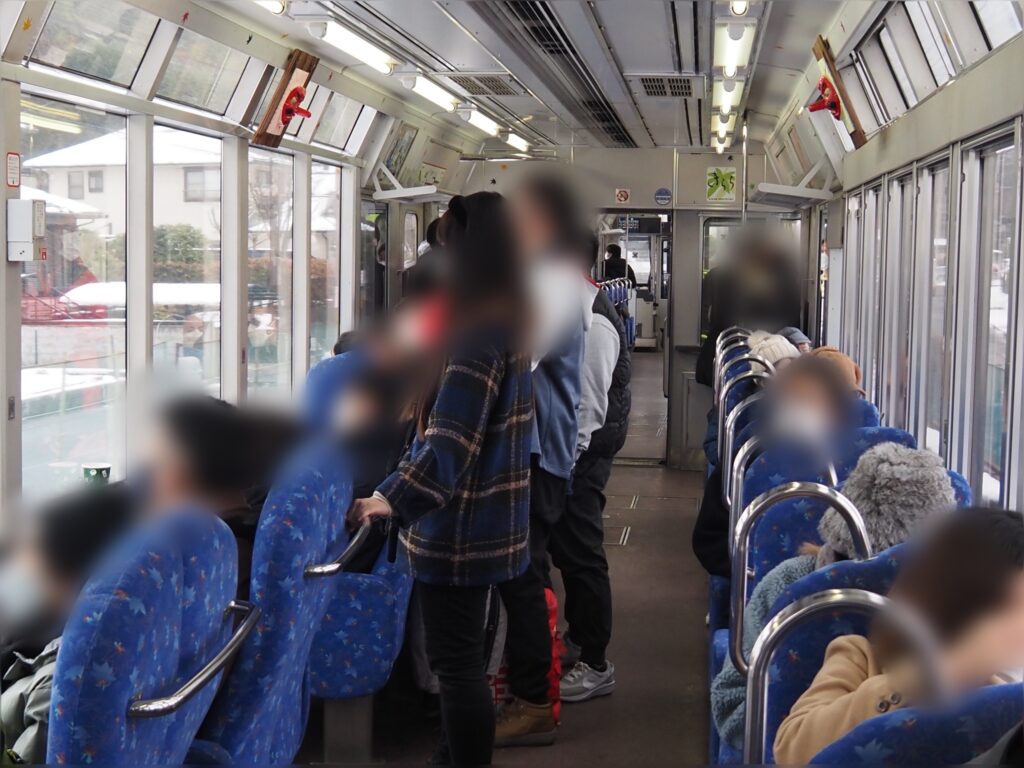 「きらら」の車内です。
This is the inside of the "Kirara" train.
観光列車に相応しく、大きな窓が特徴的です。
As befits a sightseeing train, it features large windows.
☆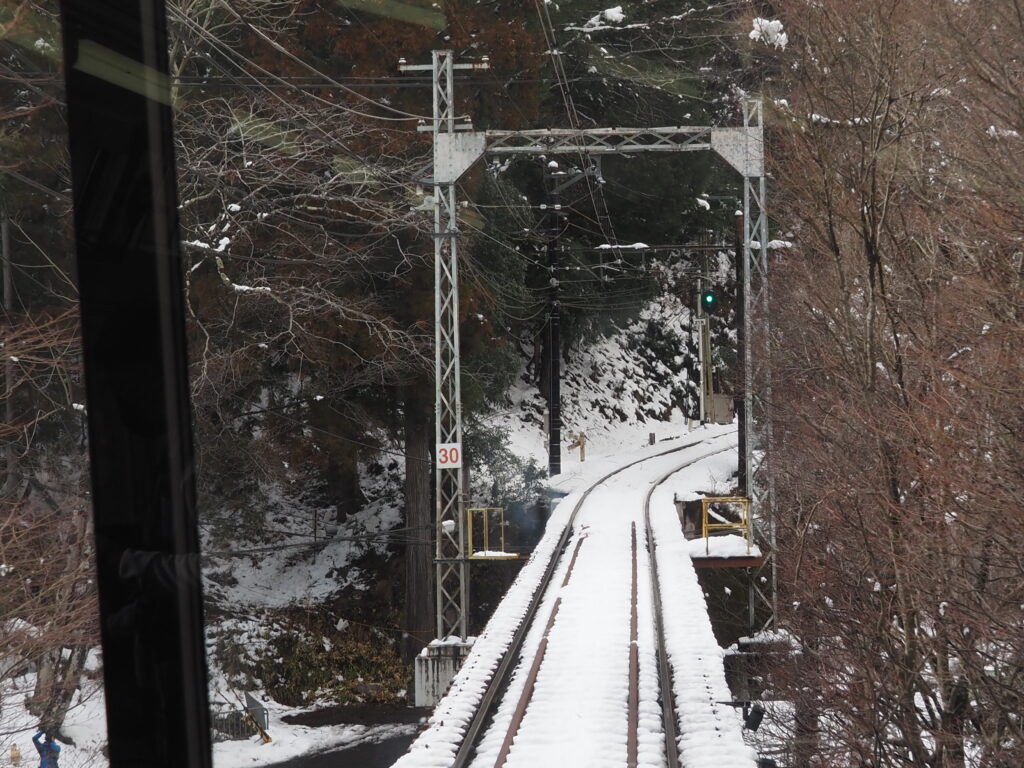 列車は京都の市街地を離れ、鞍馬の山中に向かって行きます。
The train leaves the city center of Kyoto and heads into the mountains of Kurama.
☆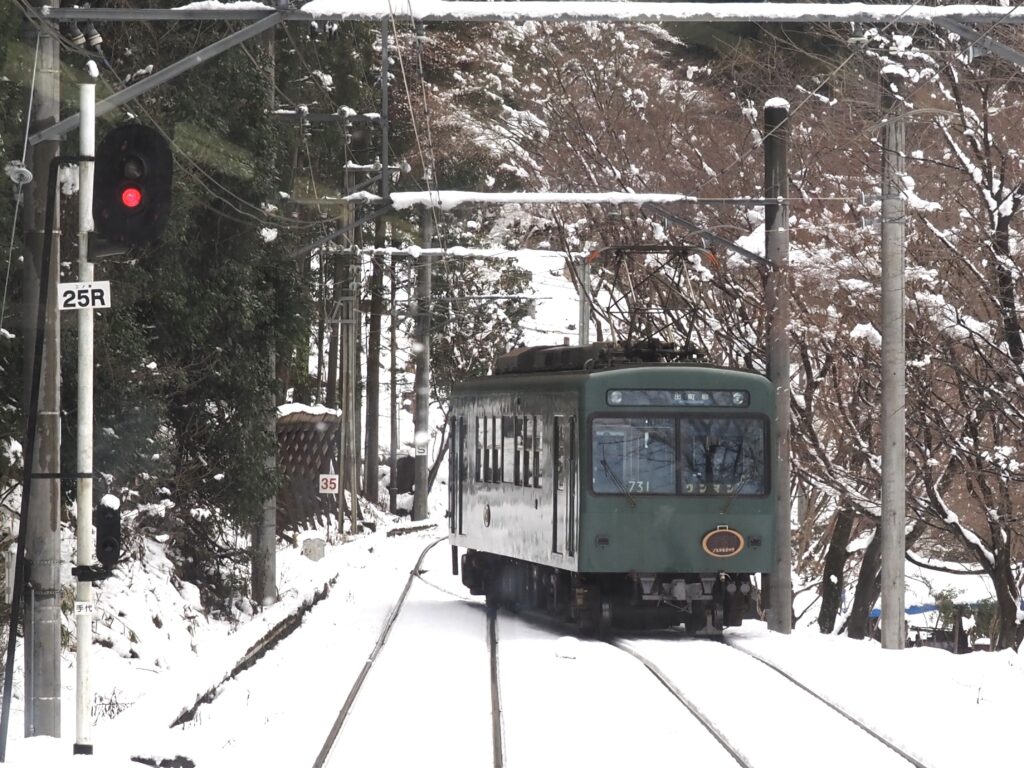 二ノ瀬駅では、対向列車の待ち合わせを行ないます。
At Ninose Station, the train will meet an oncoming train.
☆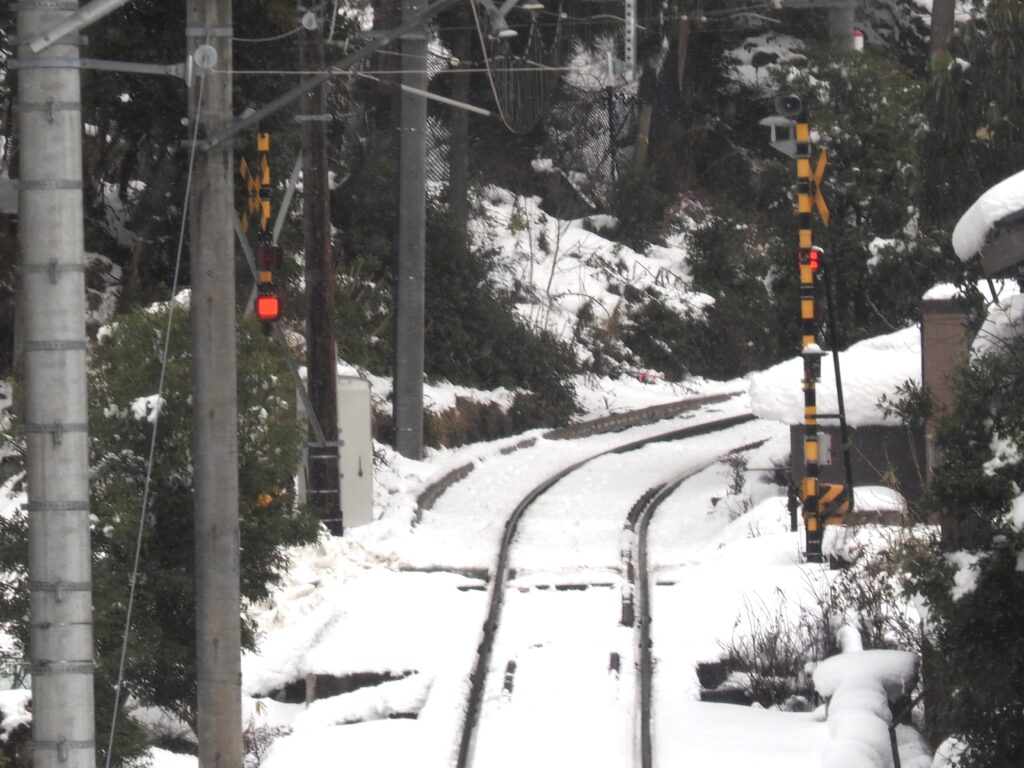 次の貴船口駅に向かう区間です。
This is the section leading to the next Kibunaguchi Station.
望遠レンズで撮影しているため、画像の遠近感が圧縮されていますが、この路線の勾配の強さが伝わってきます。
Although the perspective of the image is compressed because it was taken with a telephoto lens, it conveys the strength of the slope of this route.
この列車、始発の出町柳駅を出てしばらくの市街地区間は軽快に走行しているのですが、山中に入るにつれ、とても力強い走りを見せてくれます。
This train runs lightly in the urban section for a while after leaving Demachiyanagi Station, the starting point of the train, but as it enters the mountains, it shows very powerful running.
☆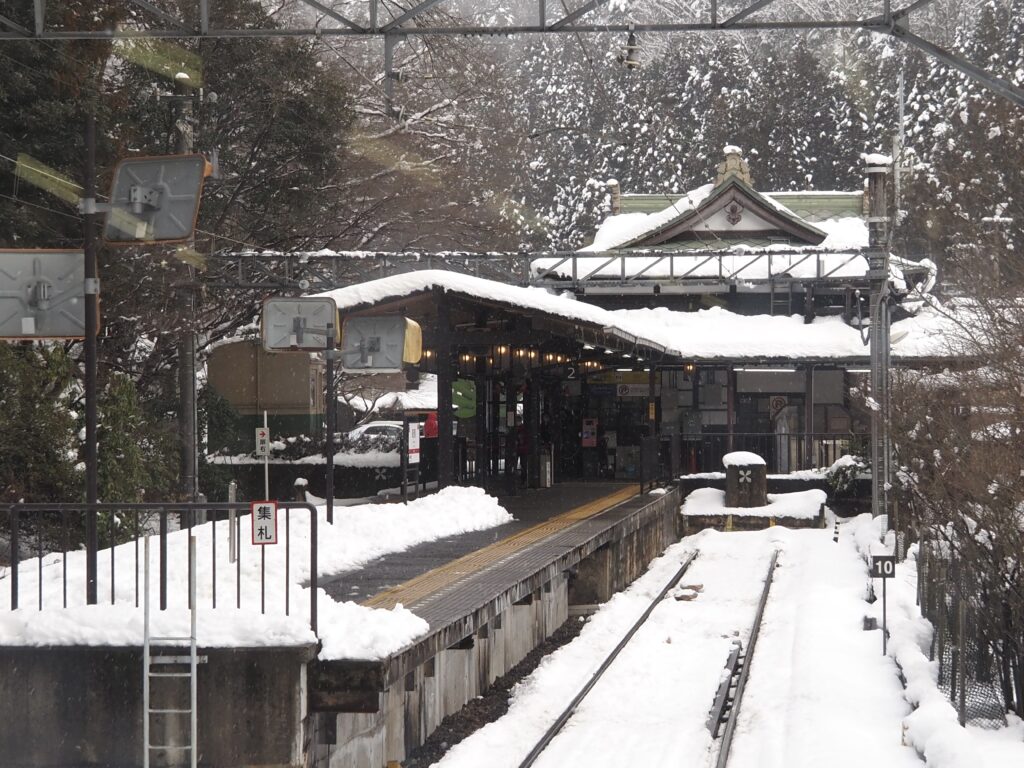 終点の鞍馬駅に到着です。
The train arrives at Kurama Station, the last stop.
☆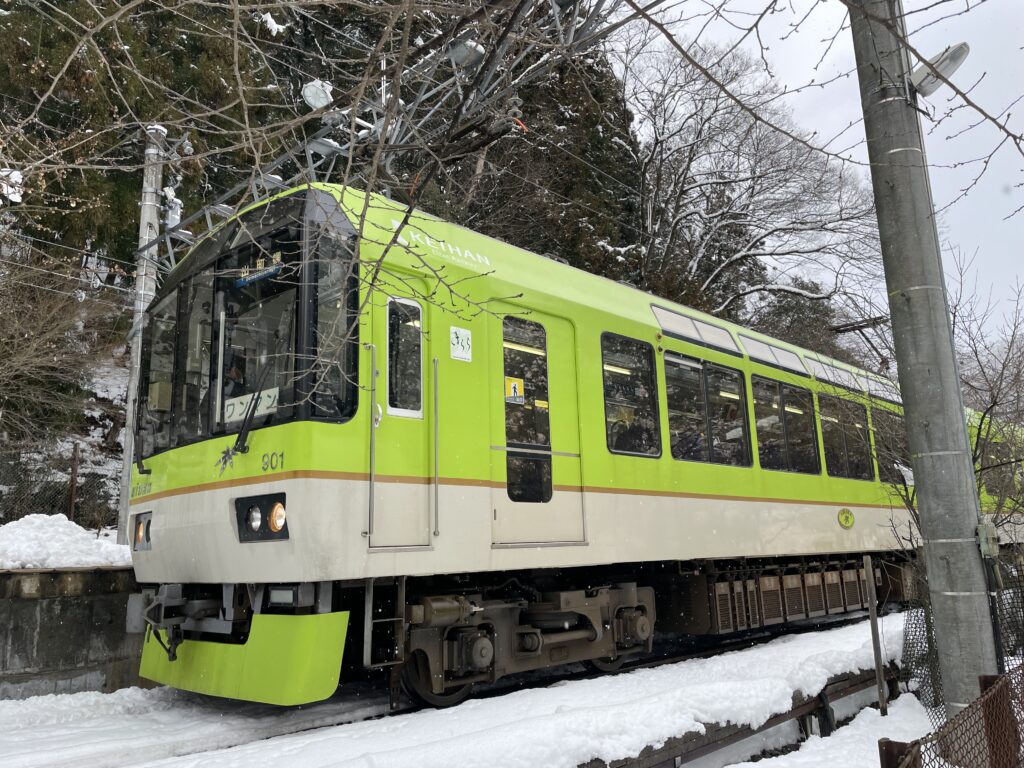 ここまで乗車してきた列車は、この駅に到着するとすぐに折り返して出町柳駅に戻ります。
The train that has boarded up to this point will turn around and return to Demachiyanagi Station as soon as it arrives at this station.
☆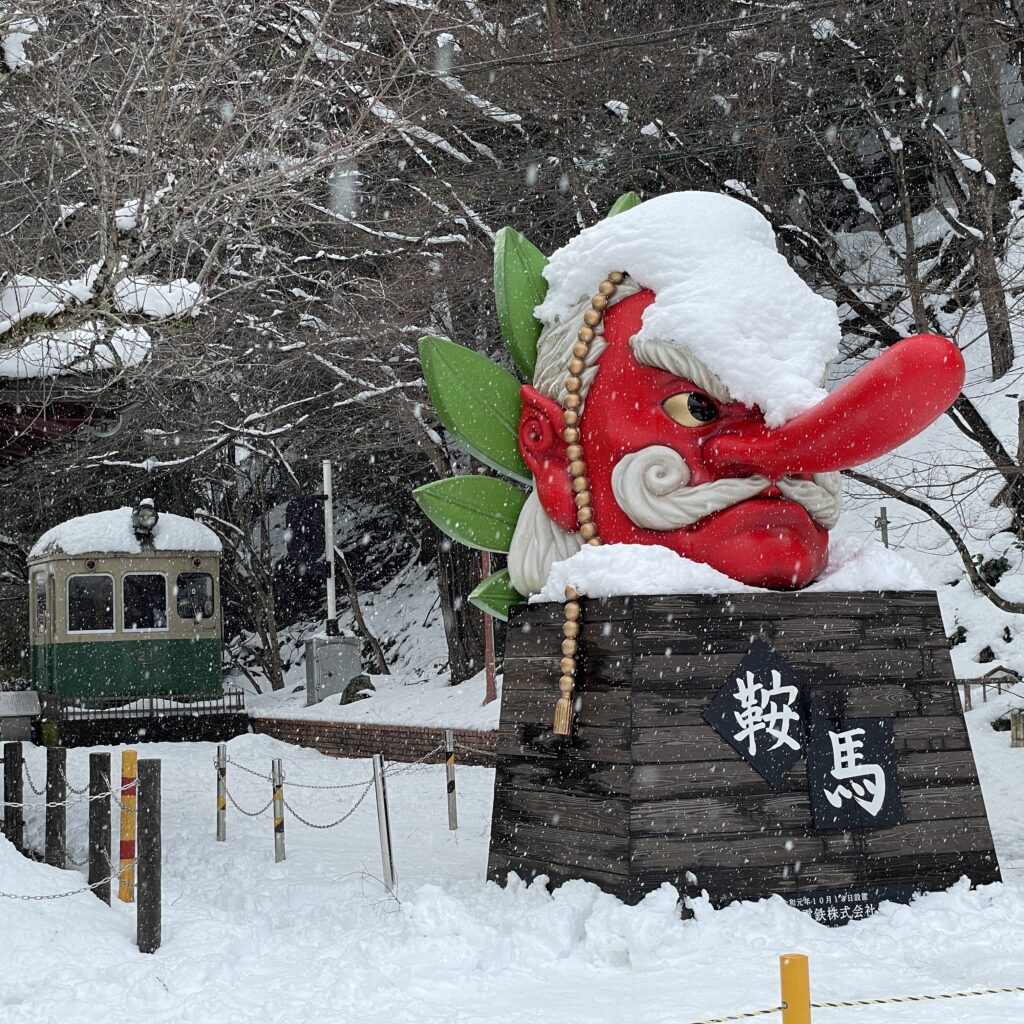 前回のブログで紹介した、京都市南部の伏見桃山駅界隈とは全くの別世界。
It is a completely different world from the Fushimi Momoyama Station area in the southern part of Kyoto City, which I introduced in my previous blog.
距離にして20kmほどの場所ですが、ここは雪国さながらの風景です。
The distance is about 20 km, but the landscape here is just like a snow country.
とっても寒い。。
It's very cold.
さて、この後は暖かい台湾茶と、韓国鍋料理が私を待っていますので、市街地へ戻ることとしましょう。
Now, I will return to the city center, where warm Taiwanese tea and Korean hot pot dishes await me.
☆
ご拝読、有難うございました。
Thank you for your reading this post.
またのお越しを、お待ちしています。
I'm looking forward to your next visit.