090 Trip to seek Zodiac in New Year. ( 2/3 )
来年の干支を目指す旅を続けます。
I continue my journey to next year's zodiac.
☆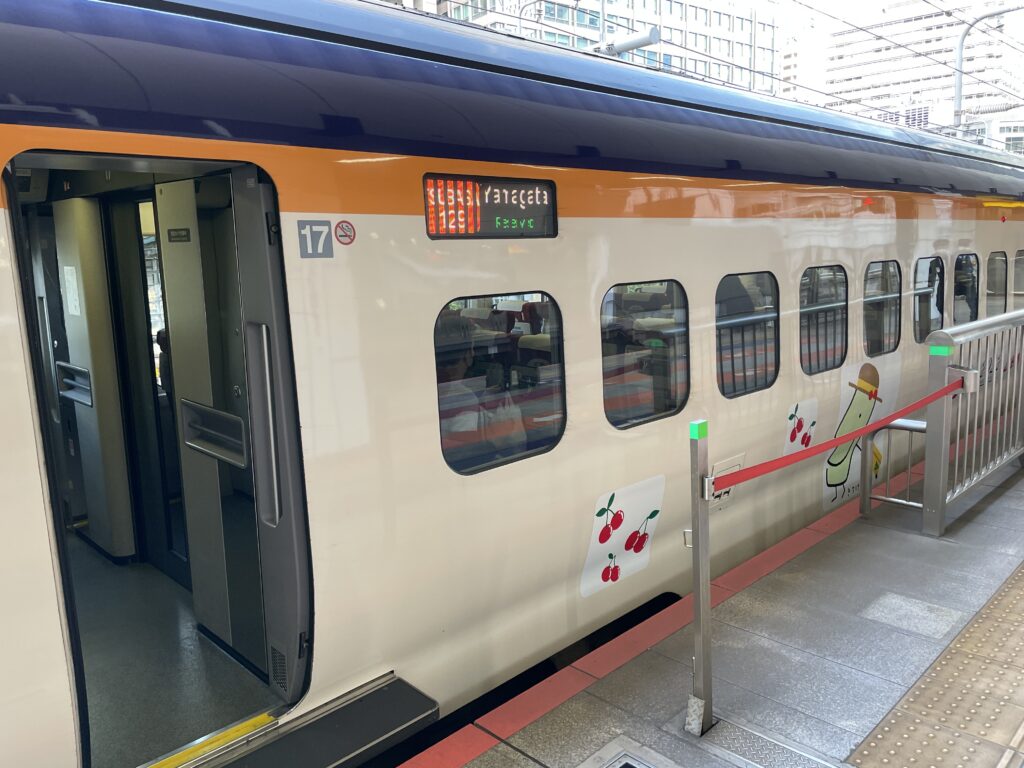 まずは、山形県の米沢駅に向かって、山形新幹線「つばさ129号」に乗車します。
First, board the Yamagata Shinkansen "Tsubasa No. 129" for Yonezawa Station in Yamagata Prefecture.
車体には、山形県が誇る名産品の「さくらんぼ」と、観光キャンペーンキャラクターの「きてけろくん」のステッカーが貼られています。
The body of the car is decorated with stickers of Yamagata Prefecture's famous product, cherries, and the tourism campaign character "Kiketero-kun".
( "Kiketero-kun" = Mr. Please come. )
☆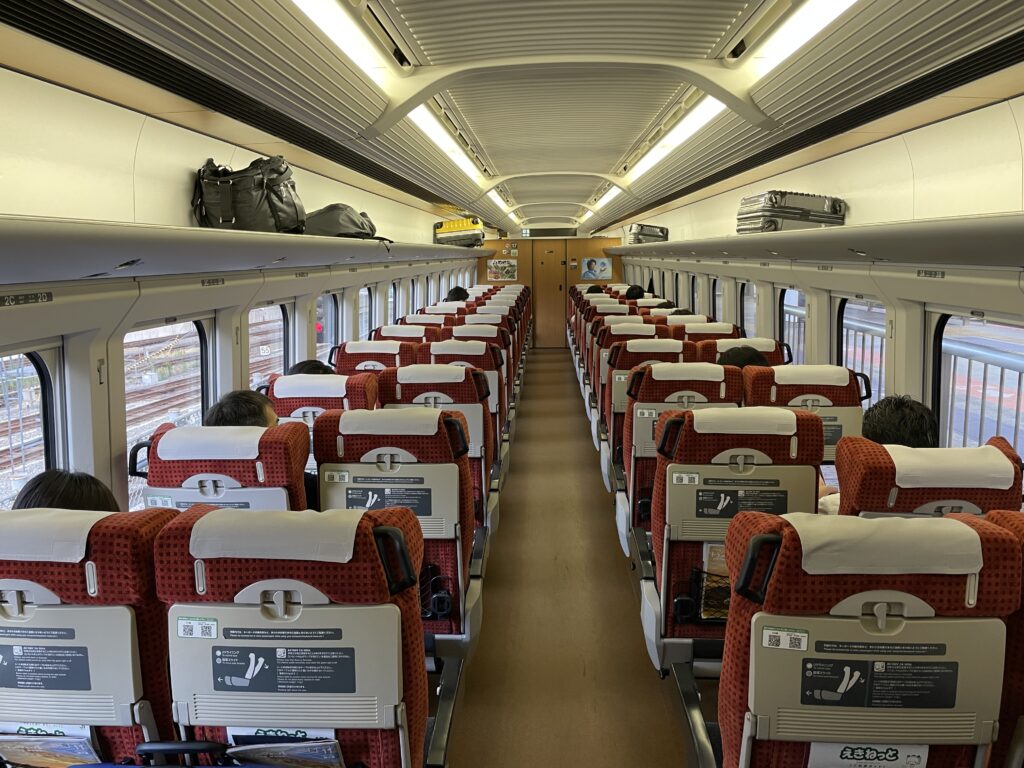 車内の様子です。普通車ですが片側2列のシートで、ゆとりある空間です。
This is a view of the interior of the car. Although it is a standard car, it has two rows of seats on each side and is spacious.
☆
車内アナウンスです。空調機のノイズが目立ちますが、ご容赦ください。
This is an in-train announcement. Please forgive the noticeable noise from the air conditioner.
☆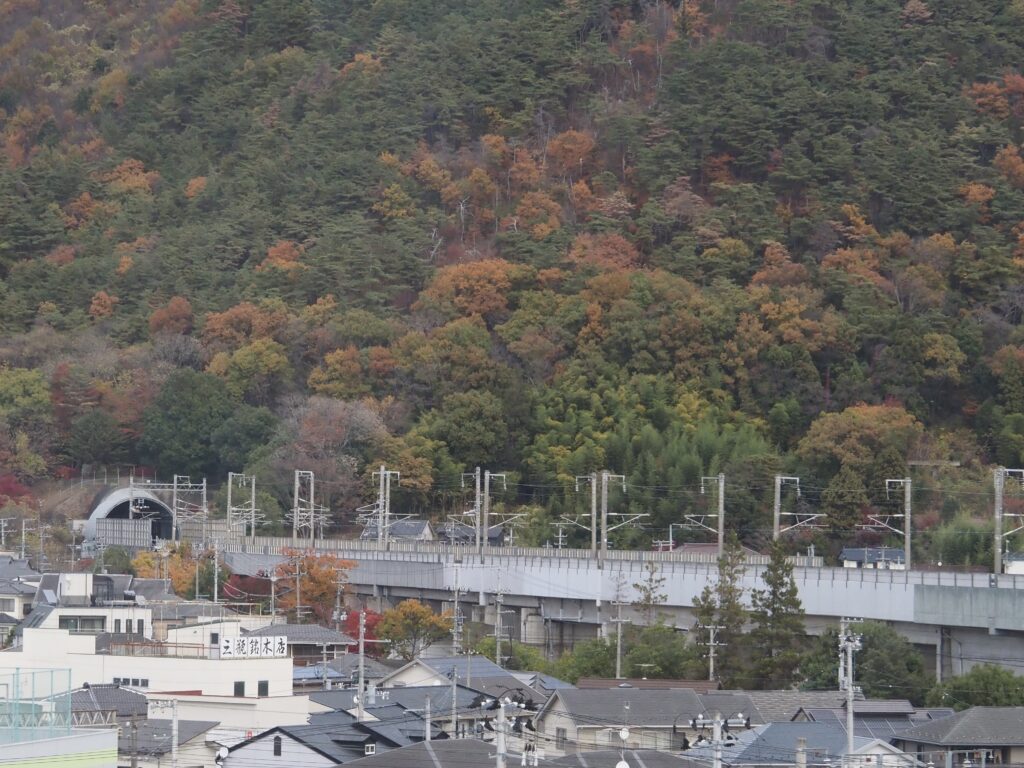 福島駅を出発後、列車は在来線の奥羽本線に入ります。
After departing Fukushima Station, the train enters the Ou Main Line.
右手に見えているのは、青森県へ向かう東北新幹線の軌道です。
On the right is the track of the Tohoku Shinkansen heading for Aomori Prefecture.
☆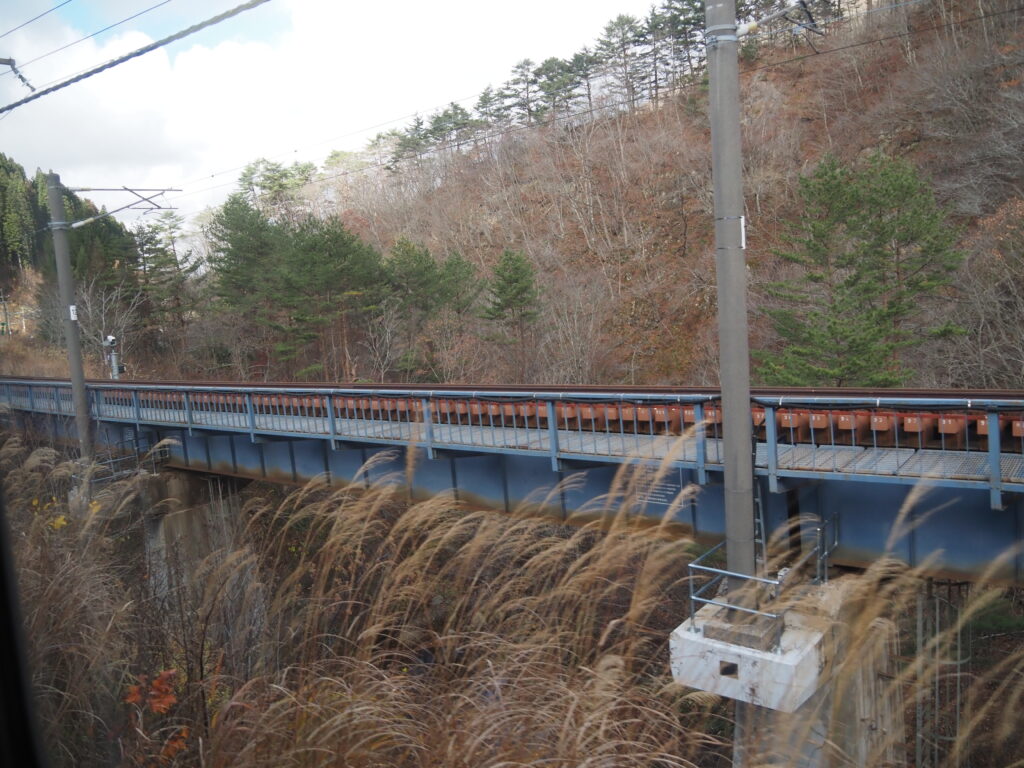 列車は、板谷峠(いたやとうげ)を越えて福島市から米沢市へ向います。
The train will cross the Itaya Pass and head from Fukushima City to Yonezawa City.
☆
米沢駅に到着です。
I have arrived at Yonezawa Station.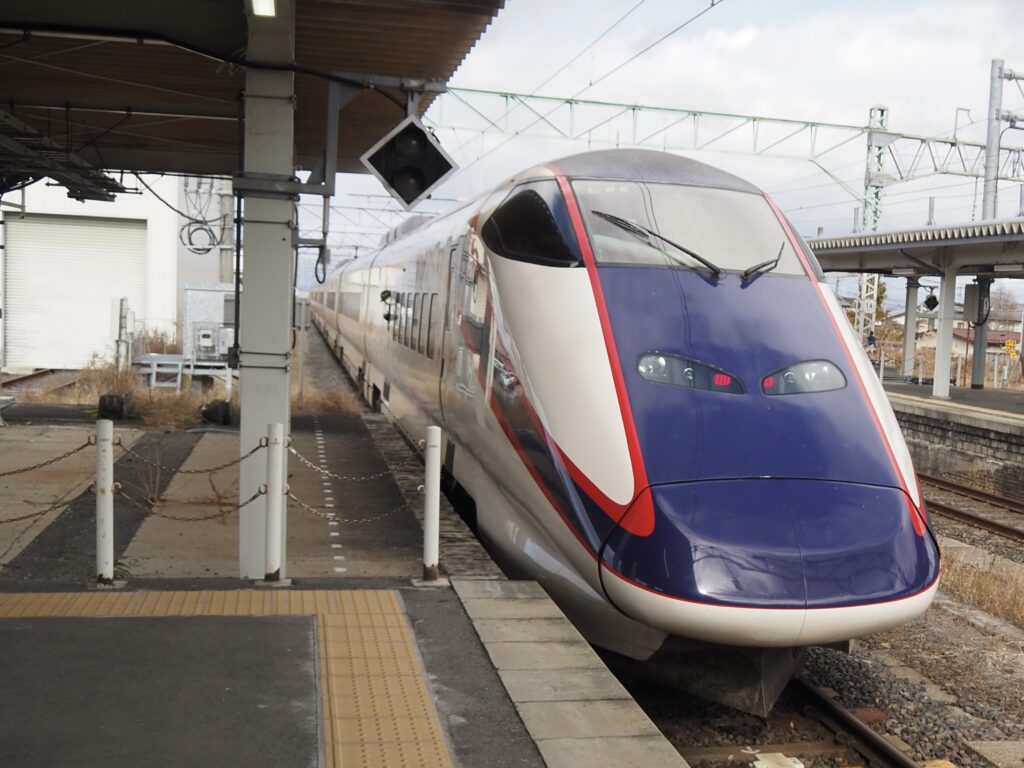 この後「つばさ129号」は、終着駅の山形を目指します。
After this, "Tsubasa No. 129" will continue to Yamagata, its terminal station.
☆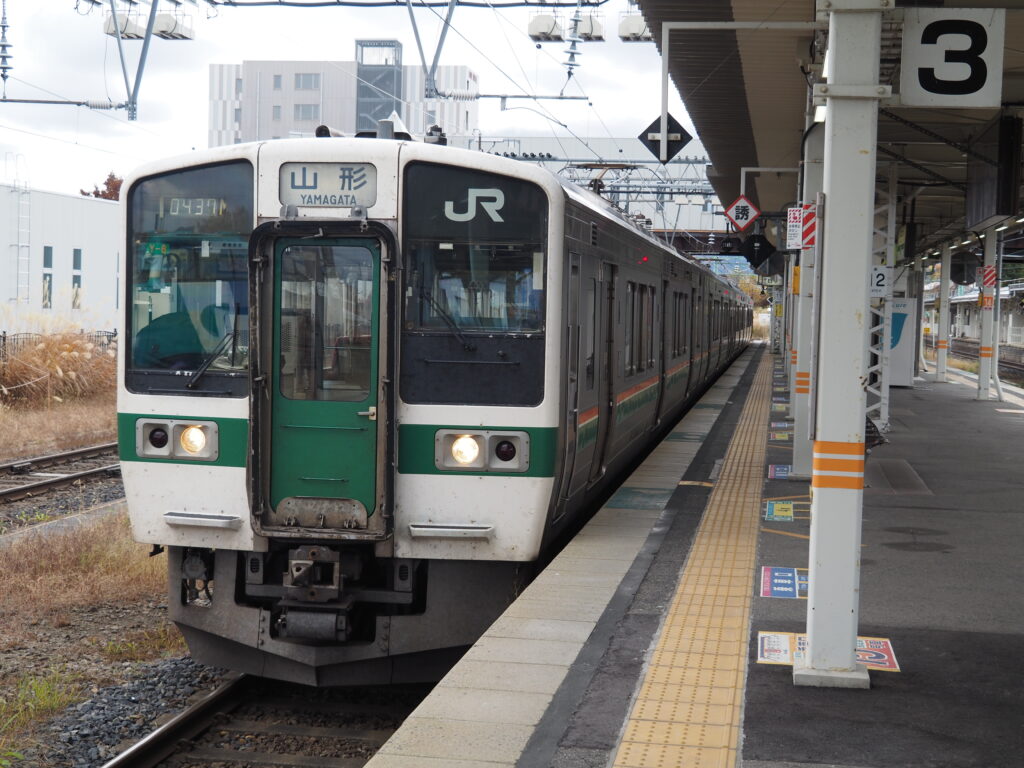 米沢駅では山形駅に向かう普通列車が停車中でした。
At Yonezawa Station, a local train bound for Yamagata Station was stopped.
この路線を走る719系5000番台車両は、旧国鉄時代に製造された211系に正面のデザインが似ているので、ベテラン選手の雰囲気を醸し出しています。
This Series 719 (Type 5000) train is similar to the Series 211 built in the former Japan National Railways era and has the feel of a veteran player.
☆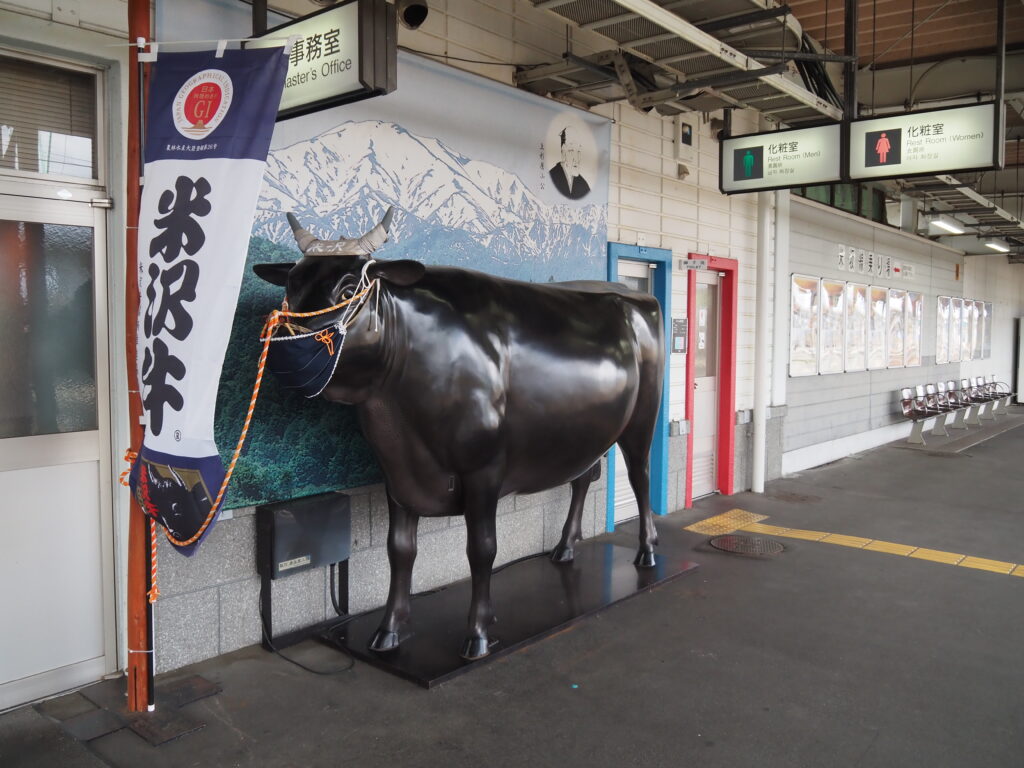 改札の横には、ご当地ブランドの「米沢牛(よねざわぎゅう)」がお出迎えです。
Next to the ticket gate, a local brand of "Yonezawa – Gyuu ( Yonezawa beef )" welcomes me.
この後は、いよいよ今回の旅の目的地に向かいます。
After this, I will finally head to the destination of my trip.
☆
(つづく)
(to be continued)
☆
ご拝読、有難うございました。
Thank you for your reading this post.
またのお越しを、お待ちしています。
I'm looking forward to your next visit.