089 Trip to seek Zodiac in New Year. ( 1/3 )
寝台列車「サンライズ瀬戸」の旅を終えて、東京駅からは、来年の「干支」を求めて旅を続けます。
After finishing my trip on the "Sunrise Seto" sleeper train, I will continue my trip from Tokyo Station in search of the "Chinese Zodiac" for the coming year.
☆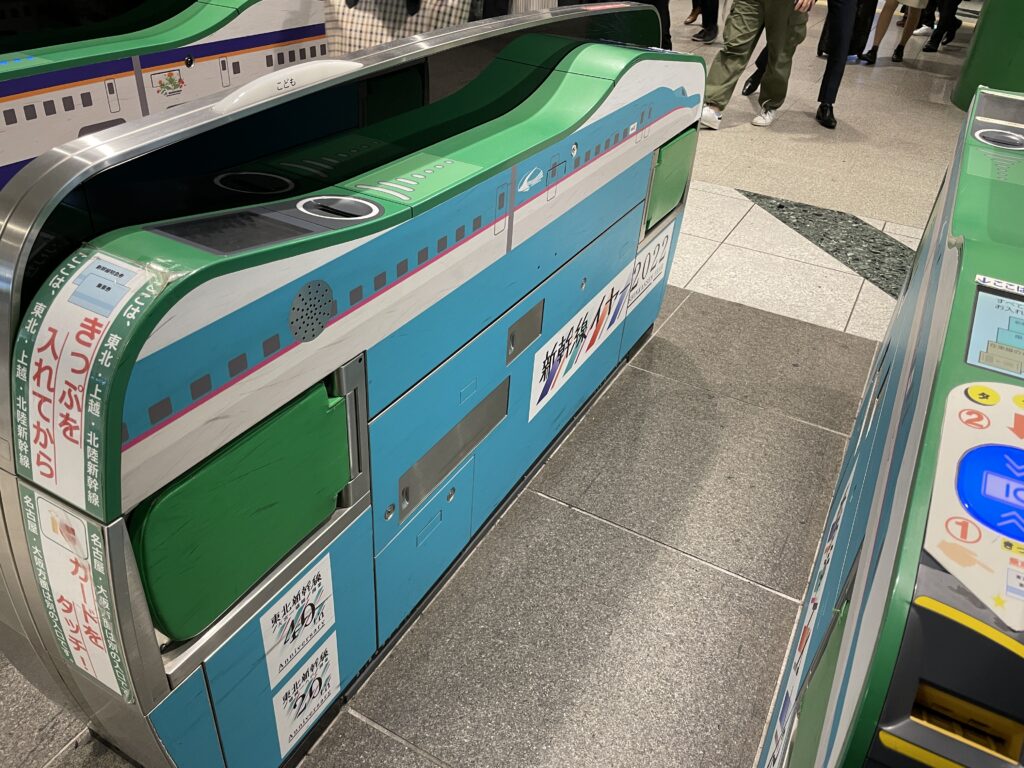 東京駅の東北新幹線へ向かう改札機には、新幹線E5系デザインのステッカーが貼られていました。
A sticker with the Shinkansen E5 series design was placed on the ticket gate at Tokyo Station for the Tohoku Shinkansen.
☆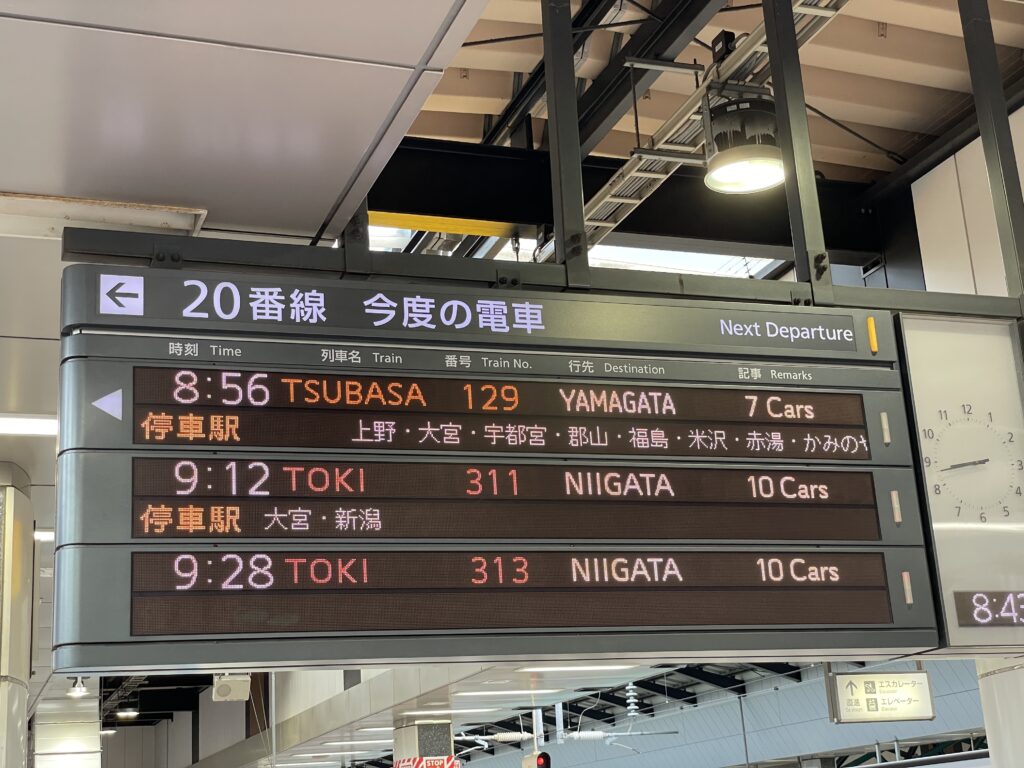 今回の目的地は山形県。8時56分発の「つばさ129号」に乗車します。
My destination this time is Yamagata Prefecture. I will board the 8:56 a.m. departure of the Tsubasa No. 129.
☆
その前に、新幹線車両のリサーチです。
Before that, I will research Shinkansen trains.
東京から北に向かうJR東日本の新幹線には、さまざまな形式の車両が走っています。
JR East's Shinkansen trains running north from Tokyo have various types of trains.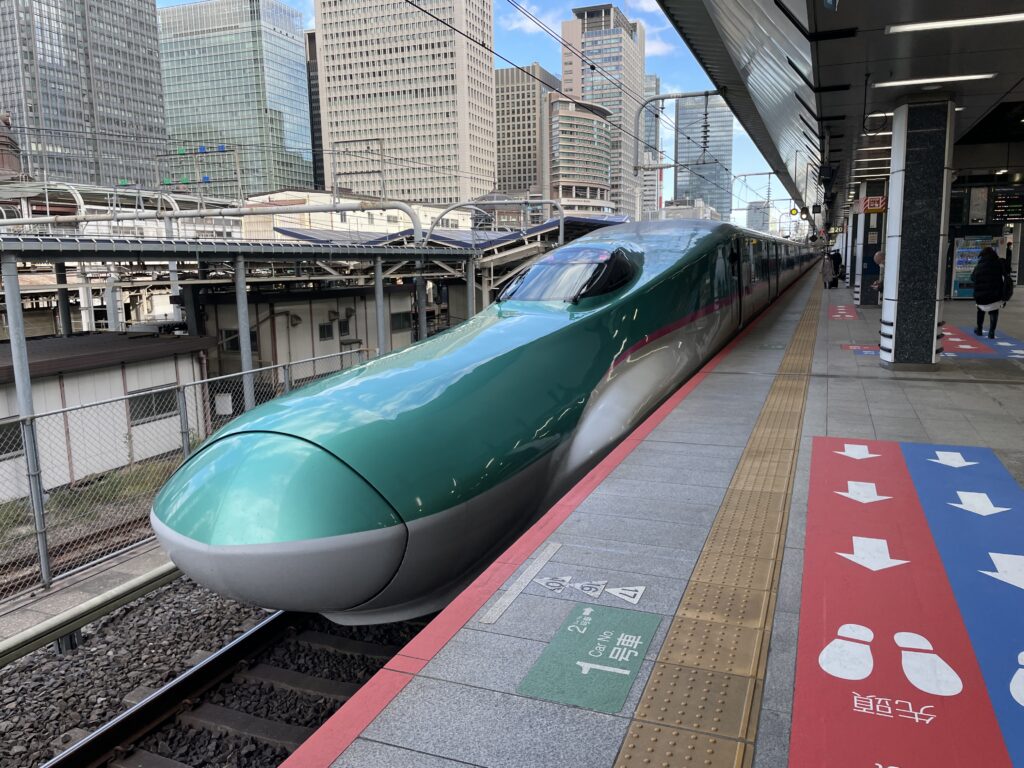 まずは「E5系」。北海道まで乗り入れる、JR東日本を代表する車両です。
First is the "E5 series. This is the representative train of East Japan Railway Company, which runs as far as Hokkaido.
☆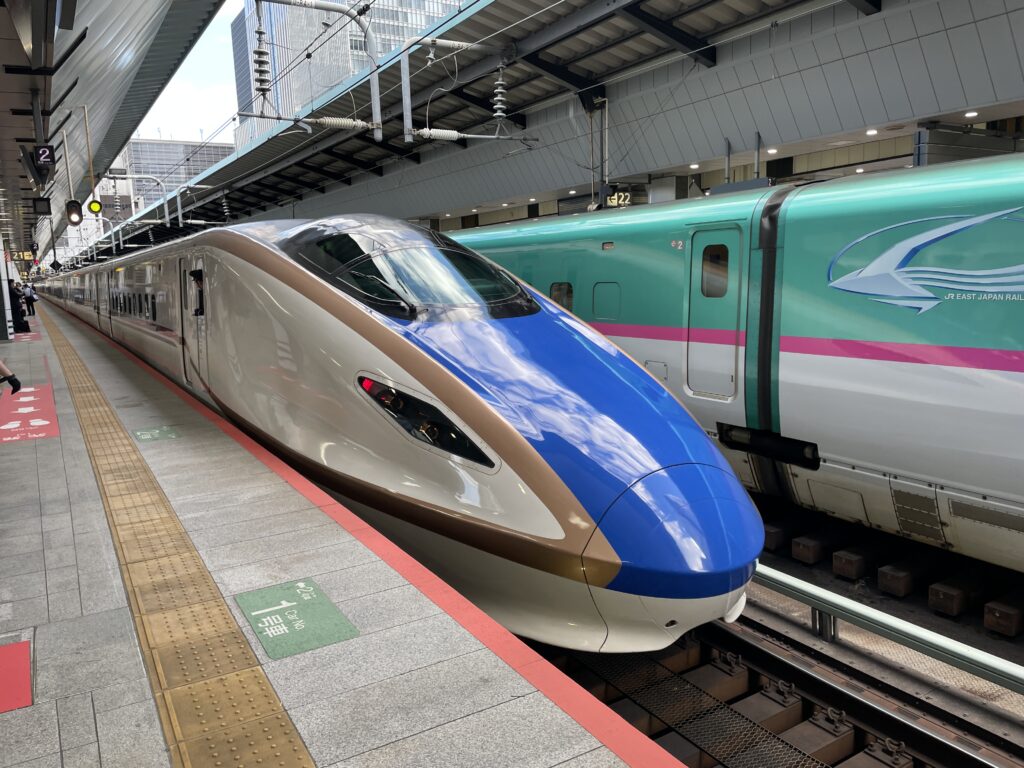 手前に止まっているのは、主に北陸新幹線を走行するE7系。
Stopped in the foreground is the E7 series, which runs mainly on the Hokuriku Shinkansen.
2022年11月時点では金沢までの運転ですが、2024年の春には福井県敦賀市まで開業する予定です。
As of November 2022, the line will operate to Kanazawa, but is scheduled to open to Tsuruga City, Fukui Prefecture, in the spring of 2024.
そして将来的には、さらに京都を通り大阪まで延伸される計画です。
In the future, the line is planned to be further extended through Kyoto to Osaka.
私の地元である京都府南部では、京都駅の他に新駅を設置する構想があり、とても楽しみです。
In my hometown in southern Kyoto, there is a plan to establish a new station in addition to Kyoto Station, which I am very much looking forward to.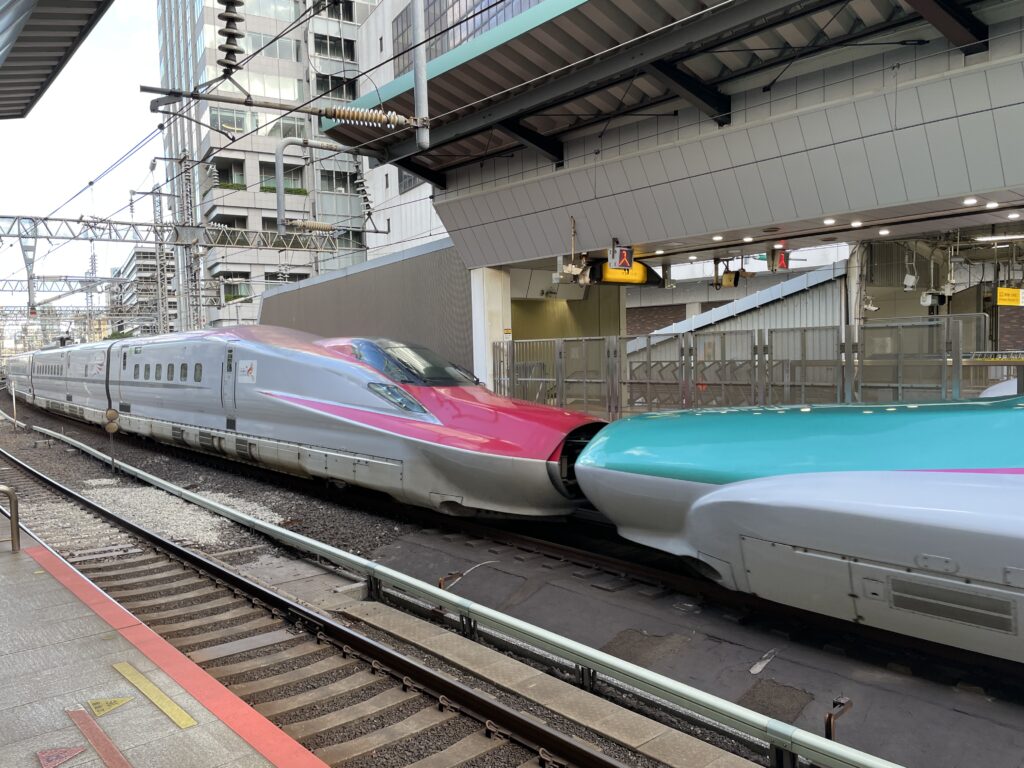 左側の赤い塗装が施されているのは、秋田県に向かう「E6」系。
The red painted train on the left is the "E6" series headed for Akita Prefecture.
迫力ある連結部分です。
It is a powerful connecting part.
☆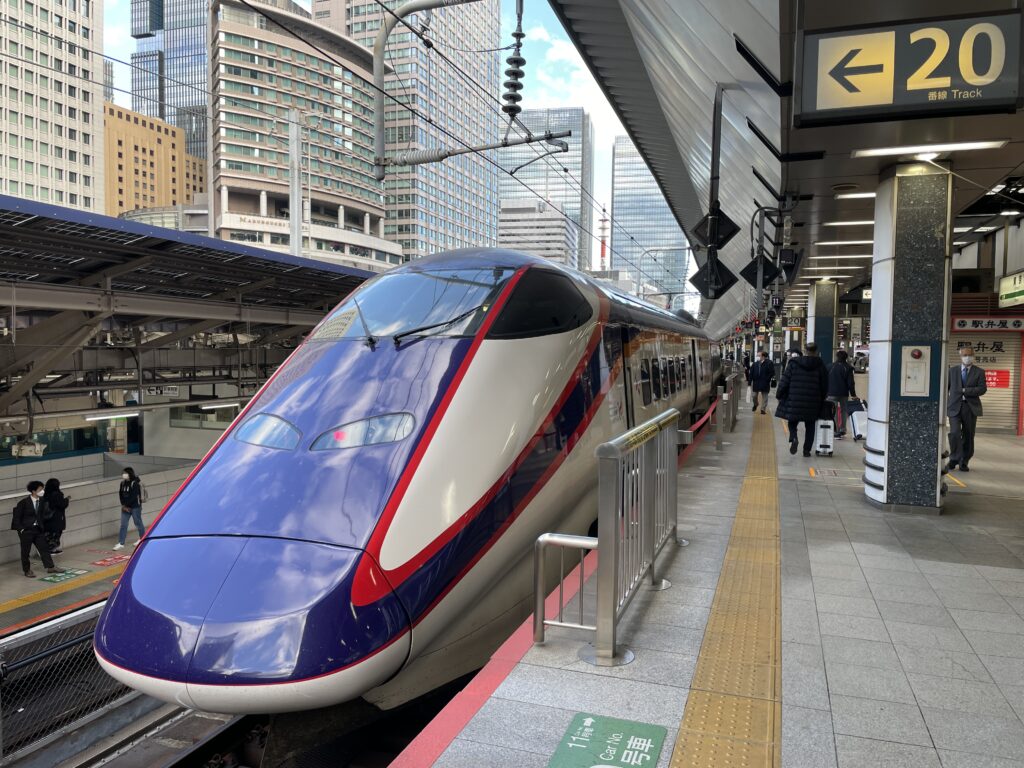 この車両が、今回利用するE3系。濃紺の塗装が凛々しいです。
This is the E3 series train I will be using. The bright navy blue paint is very dignified.
☆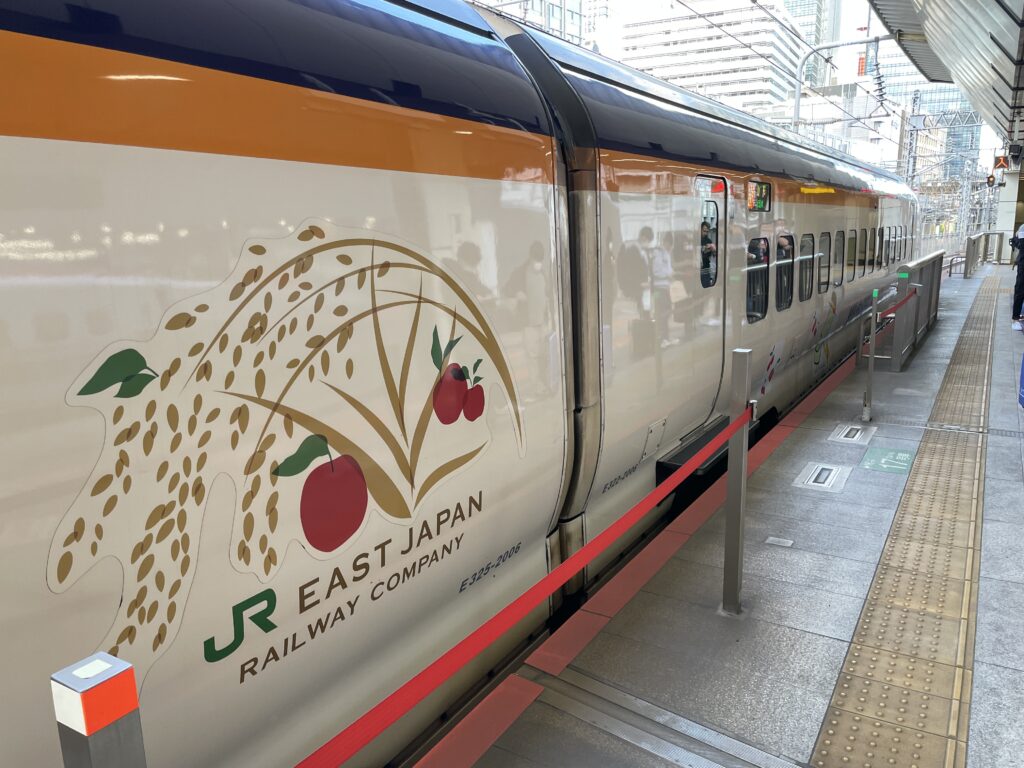 車体側面には「稲穂とりんご」がデザインされたロゴマークがありました。
On the side of the car body was a logo with an "ear of rice and an apple" design.
山形県といえば「さくらんぼ」を連想しますが、「つや姫」というブランド米や「りんご」も特産品です。
Yamagata Prefecture is associated with "cherries," but "Tsuya – Hime ( = glossy princess)" brand rice and apples are also specialty products.
☆
(つづく)
(to be continued)
☆
ご拝読、有難うございました。
Thank you for your reading this post.
またのお越しを、お待ちしています。
I'm looking forward to your next visit.