088 Take the overnight train to Tokyo.
週末夜の姫路駅。
Himeji station on a weekend night.
今回の旅、まずはここから夜行列車に乗って東京に向かいます。
On this trip, I will first take the night train from here to Tokyo.
☆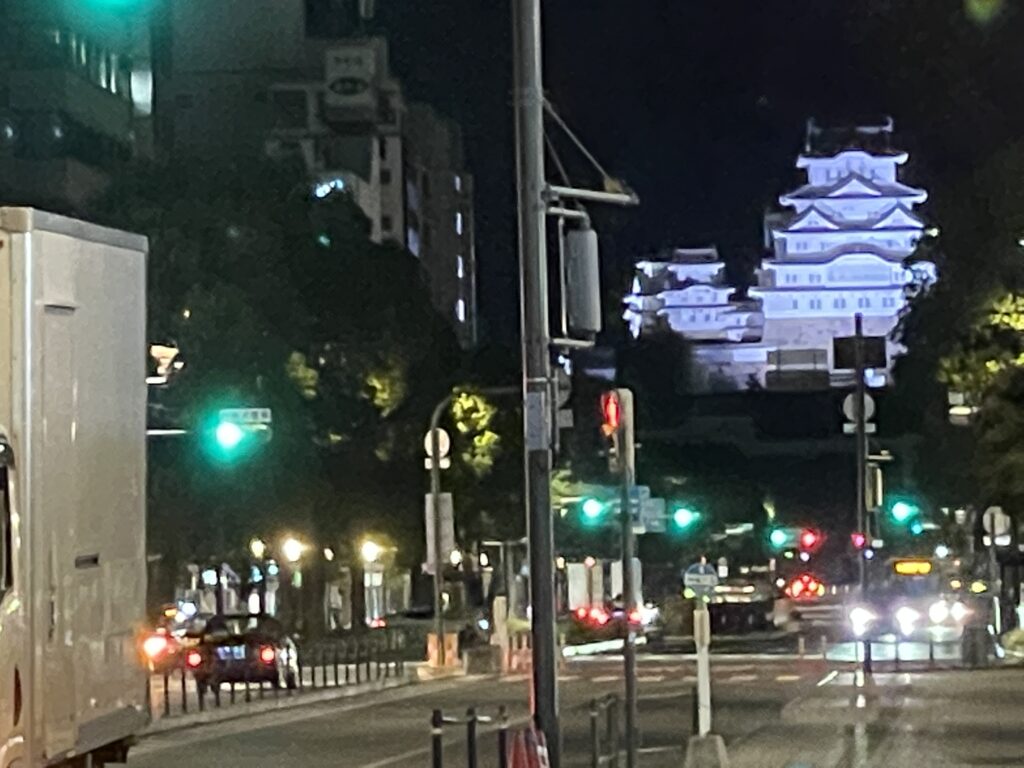 ライトアップされた姫路城。
Illuminated Himeji Castle.
白鷺城の名に相応しく、威厳ある姿を示しています。
It shows a dignified appearance worthy of its name, Shirasagi ( = generic name for herons with all-white bodies ) Castle.
☆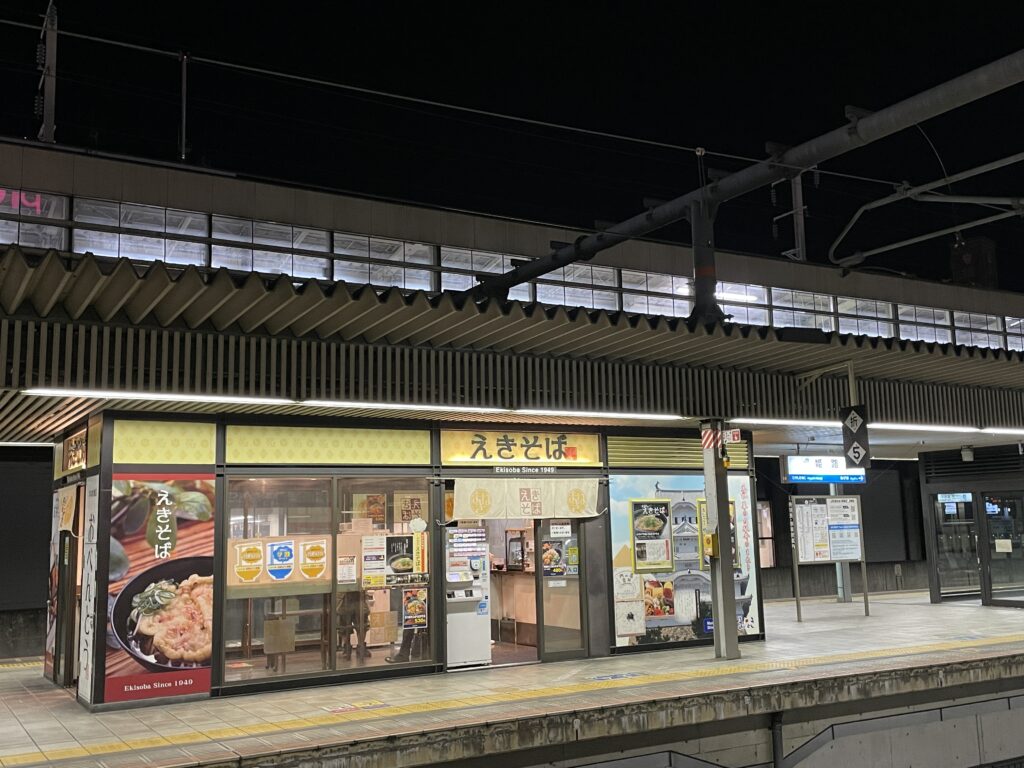 姫路駅といえば、「えきそば」。
Himeji Station is known for its "Eki-soba".
( The link is to a Japanese website. Please see the images for your reference. )
"Ekisoba" is a fast food that can be eaten at Himeji Station. It is a perfect combination of Chinese noodles and Japanese soup stock that has been offered by a local company, Maneki Shokuhin, since 1949.
( "Shokuhin" means "foods". )
この時、すでに午後11時を回っていましたが、ホームのスタンドは営業されていました。
At this time, it was already 11 p.m., but the home stand was open for business.
この時間帯で、この利用客数での店舗営業。
The store operates at this time of day and with this number of customers.
「姫路に帰ってこられた方達の空腹を満たしてあげよう」という、まねき食品さんの大きな地元愛をかんじました。
I felt Maneki Shokuhin's great love for their hometown, "Let's satisfy the hunger of those who have returned to Himeji.
☆
列車到着の案内放送です。
This is an announcement of train arrival.
岡山駅でこの寝台特急に接続する列車が、動物との衝突で遅延。
A train connecting to this sleeper express was delayed at Okayama Station due to a collision with an animal.
そのお客様を待たれて、この寝台特急はおよそ10分の遅れとなっていましたが、自動放送ながら丁寧なアナウンスがされていました。
The sleeper express was delayed by about 10 minutes because of the wait for the passengers, but the announcement was made politely, albeit automatically.
そしてこの英語放送は、いつ聞いても素晴らしいプロのアナウンスだと思います。
And this English broadcast is always a great professional announcement to hear.
☆
寝台列車の車内の様子です。
This is a view of the sleeping car.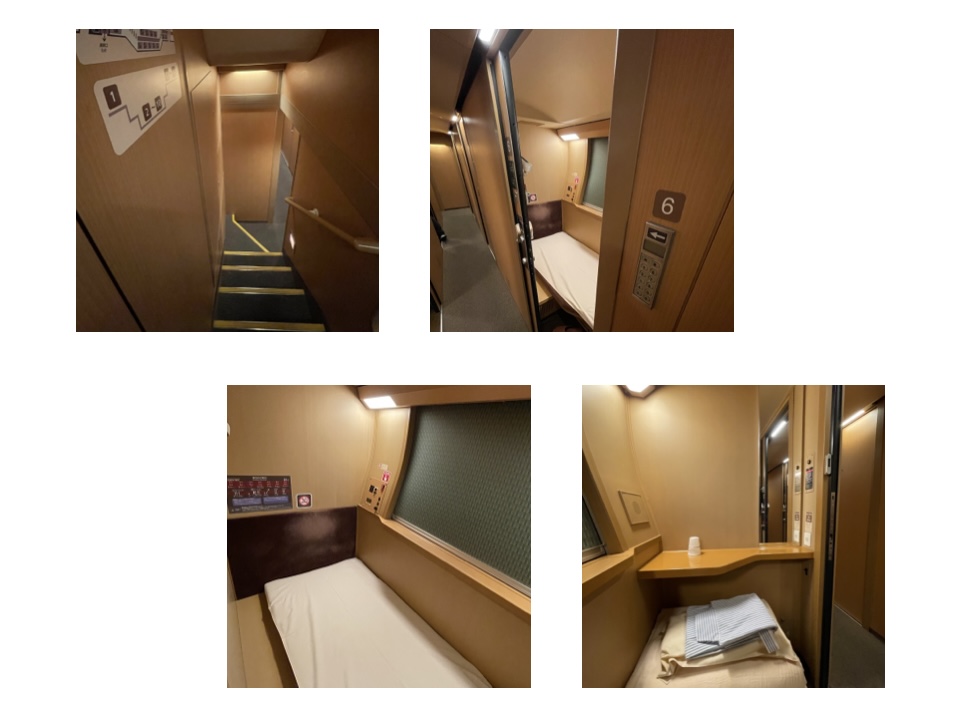 コンパクトな空間ですが、ゆっくりと落ち着ける場所だと思います。
It is a compact space, but it is a place where I can relax and feel at home.
☆
朝を迎えて、熱海駅に到着です。
Morning arrives at Atami Station.
ふと思い立ち、途中下車してみました。
It suddenly occurred to me to get off at the halfway point.
東京へ向かう列車を、お見送りします。
I see off the train to Tokyo.
☆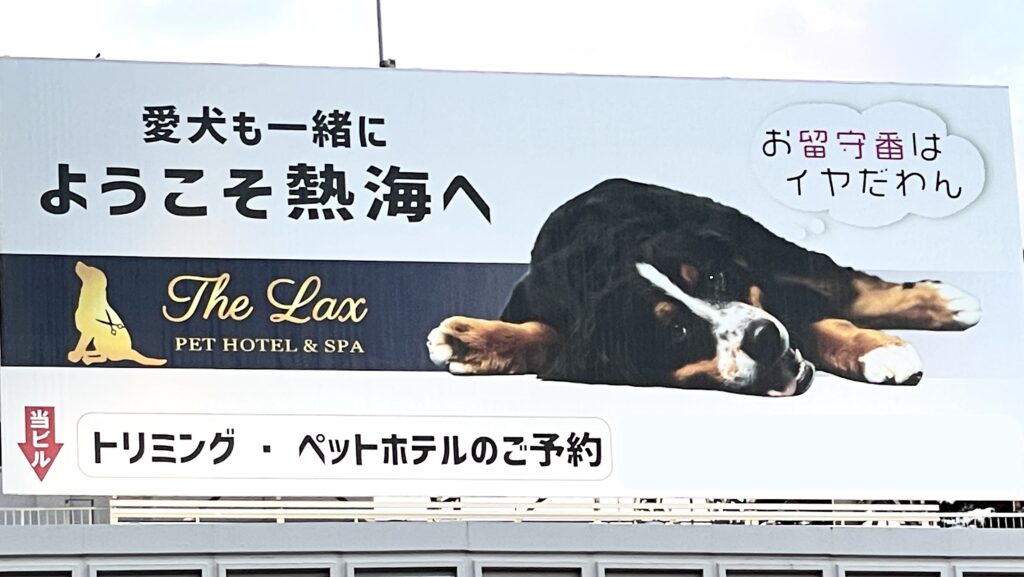 駅前に降り立つと、ワンコがお出迎え。
When I landed in front of the station, a dog greeted me.
なんだか、少し胸が痛みます。。
It's kind of a little heartbreaking.
( I don't want to stay at home." The dog's line is written. )
☆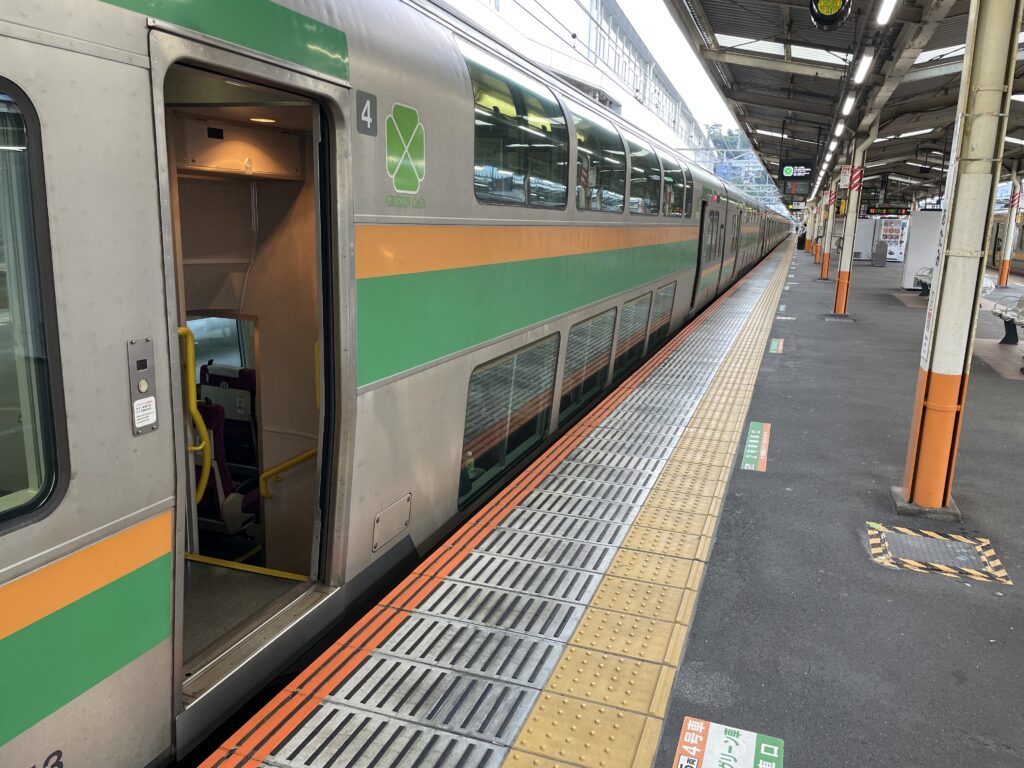 熱海駅からは、普通列車で東京に向かいます。
From Atami station, I will take a local train to Tokyo.
☆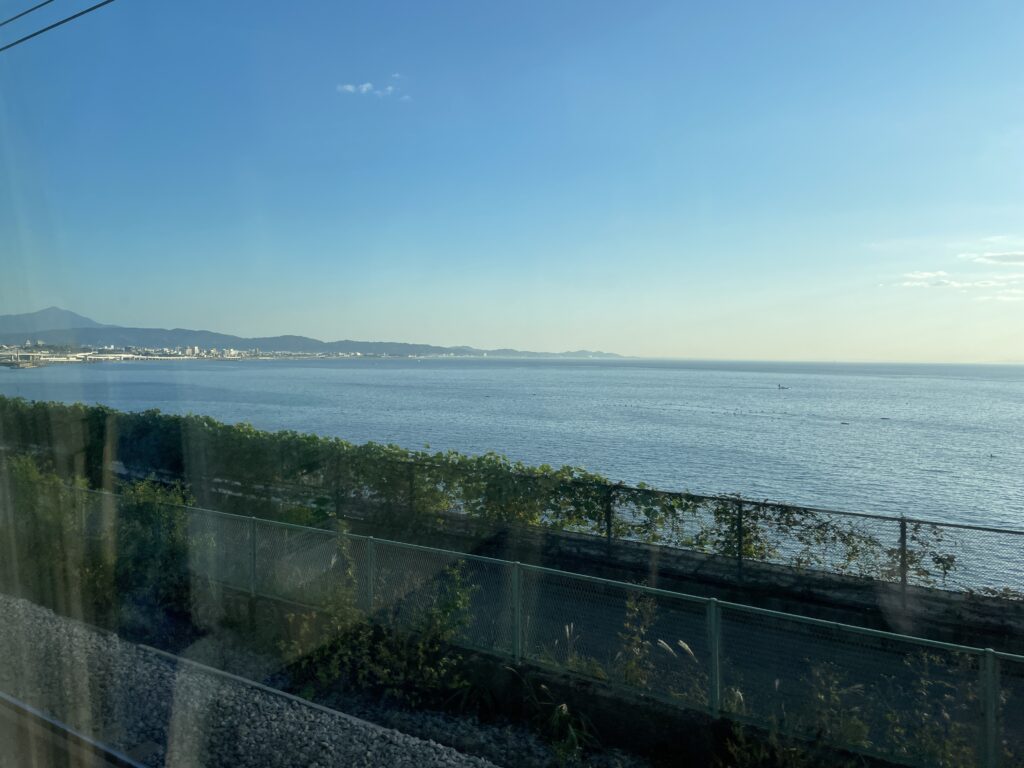 清々しい、朝の相模湾。
Sagami Bay on a clear morning.
京都に住んでいると、海のある風景は、いつも新鮮に感じます。
Living in Kyoto, the scenery with the sea always seems fresh to me.
☆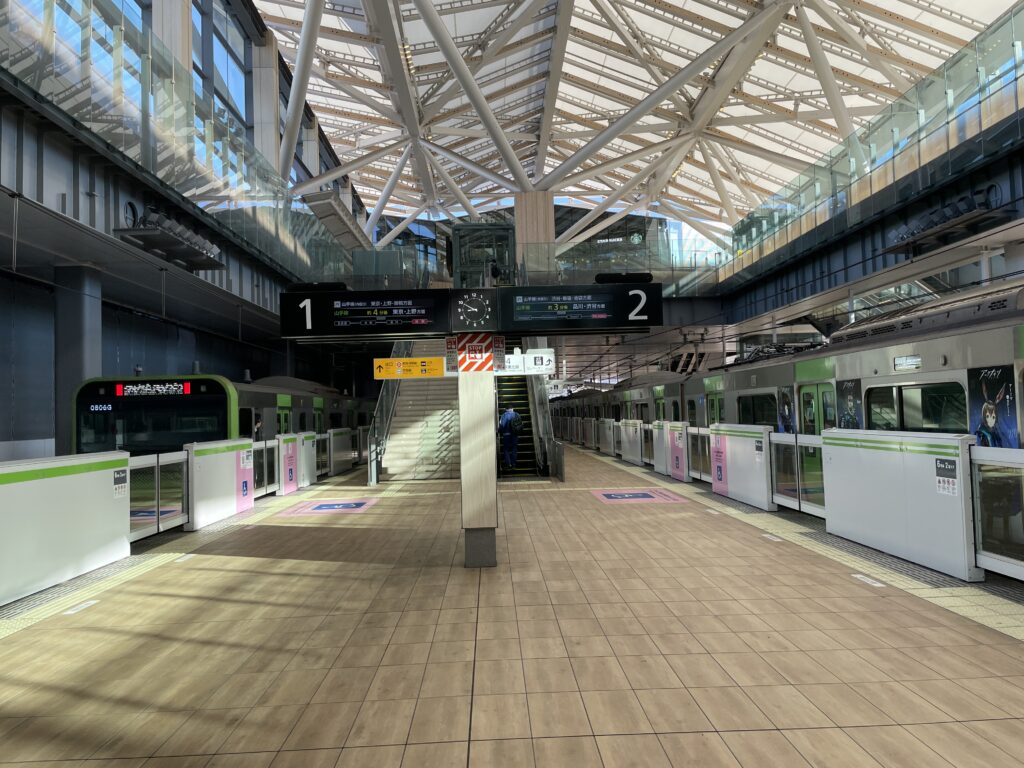 東京に着くと、まずは、私の好きな高輪ゲートウェイ駅に立ち寄りました。
Upon arriving in Tokyo, I first stopped at my favorite station, Takanawa Gateway Station.
今回の旅、この先もしばらく続きます。
This trip will continue.
☆
ご拝読、有難うございました。
Thank you for your reading this post.
またのお越しを、お待ちしています。
I'm looking forward to your next visit.