「あをによし」は、「奈良」または「国内(くぬち)」にかかる枕詞。(出典:Wiktionary)
"Aoniyoshi" is Makura-Kotoba (= a pillow word) for "Nara" or "Kunuchi ( = domestic )". (Source: Wiktionary)
Makura-Kotoba (= a pillow word) is rhetorical devices used mainly in "Waka Poetry" to set the tone or add a certain emotional quality by placing a word in front of a specific word. It is a technique that has been used since the time of the Manyoshu, along with the introductory lines. ( English translation from Wikipedia Japanese version )
そして、今年の4月にデビューした、奈良を目的地とした近鉄電車の観光特急列車に、この「あおによし」という名前が付けられました。
And the name "Aoniyoshi" was given to Kintetsu Railway's sightseeing express train with Nara as its destination, which debuted in April of this year.
☆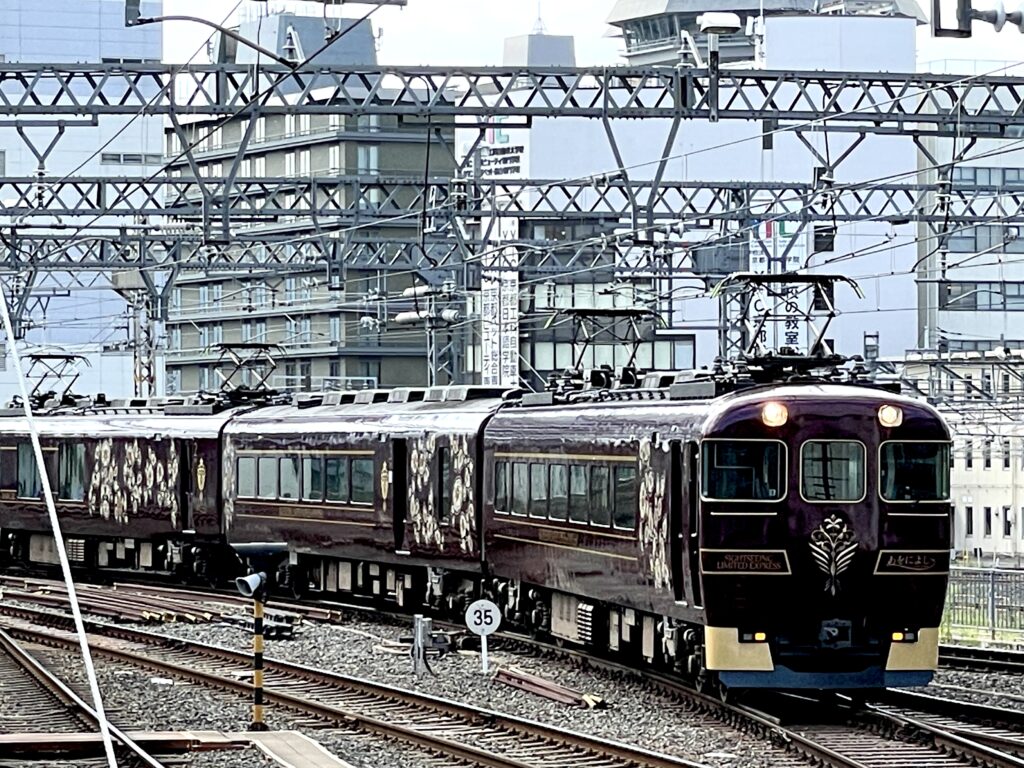 これから乗車する、特急列車「あおによし」が京都駅に到着です。
The express train I am about to board, "Aoniyoshi," is arriving at Kyoto Station.
☆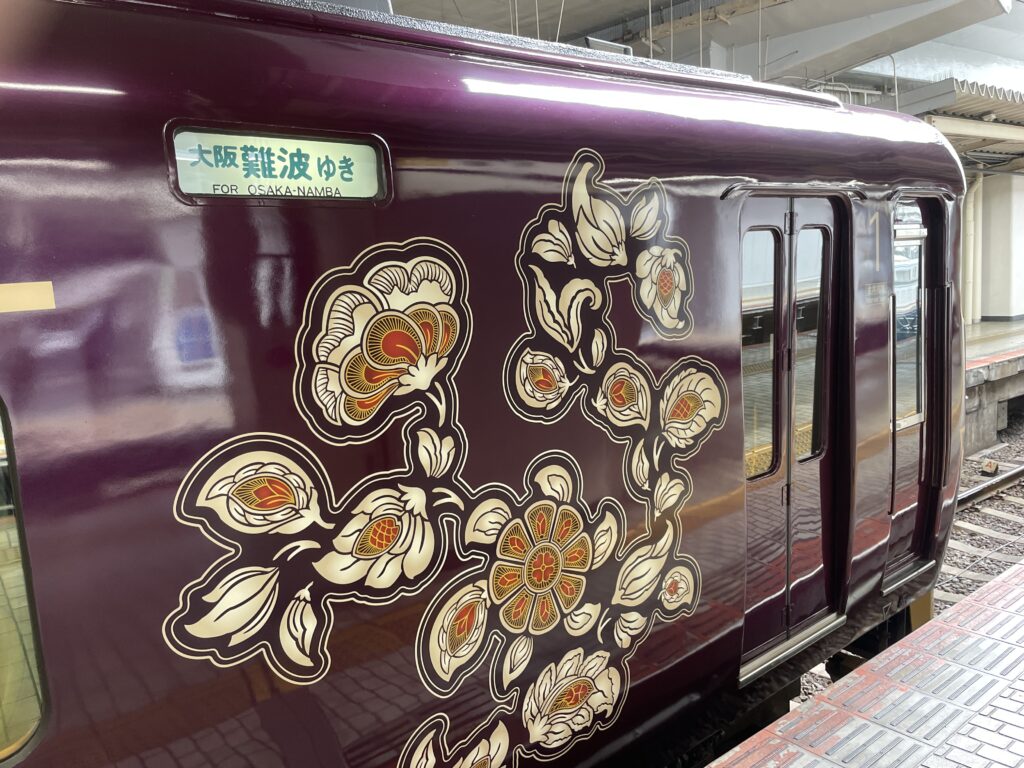 何年ぶりでしょうか、近鉄京都駅からの大阪難波行き特急の復活は。
How many years has it been since the last express train from Kintetsu Kyoto Station to Osaka-Namba was revived?
☆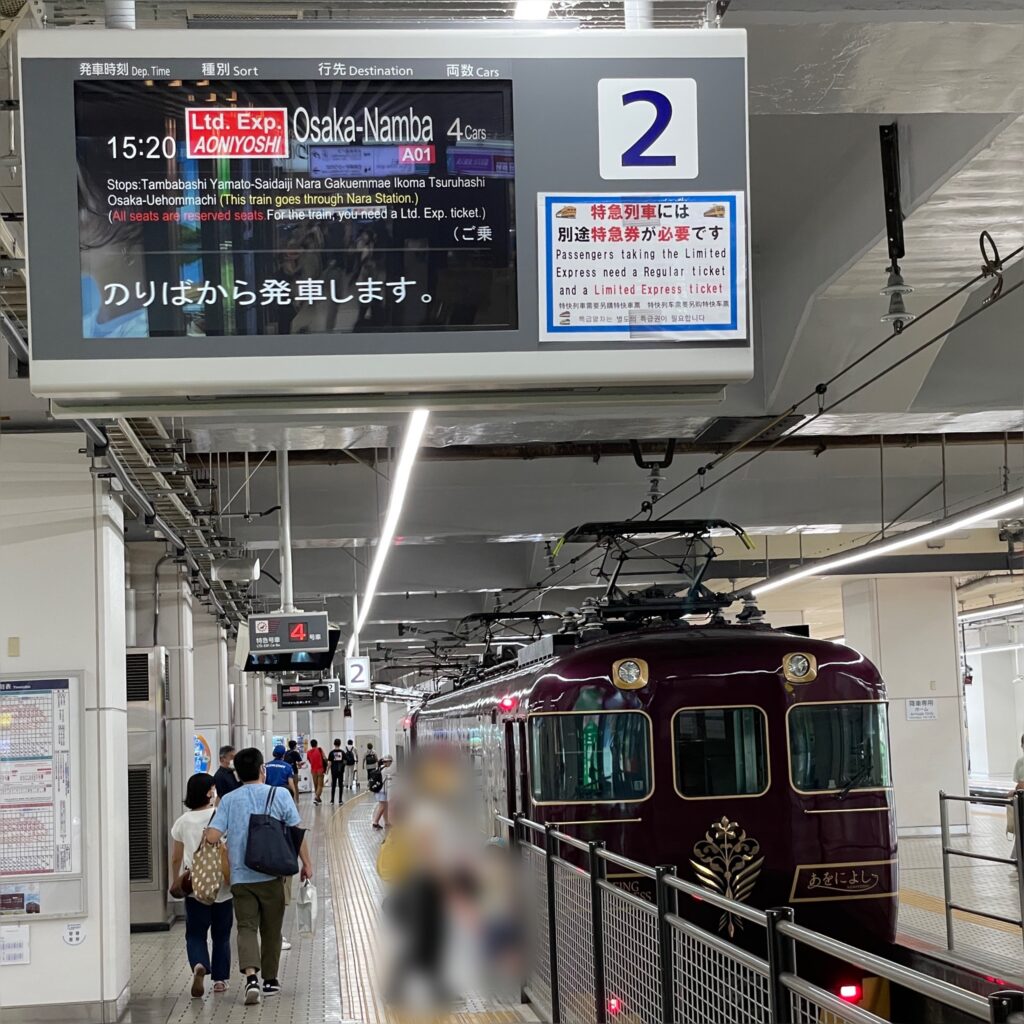 これから乗車する人にとっても、ホームから眺めている人にとっても、出発前の時間は心が躍ります。
For those about to board the train and for those watching from the platform, the time before departure is exciting.
小さなお子さんが、「乗りたい!」とアピールしているようですね。
A small child is appealing to his mother, "I want to ride!" and appealing to her mother.
大きくなって、自分の力で好きな電車に乗ることができるようにがんばるんだよ!
Good luck growing up and getting on that train you love on your own!
☆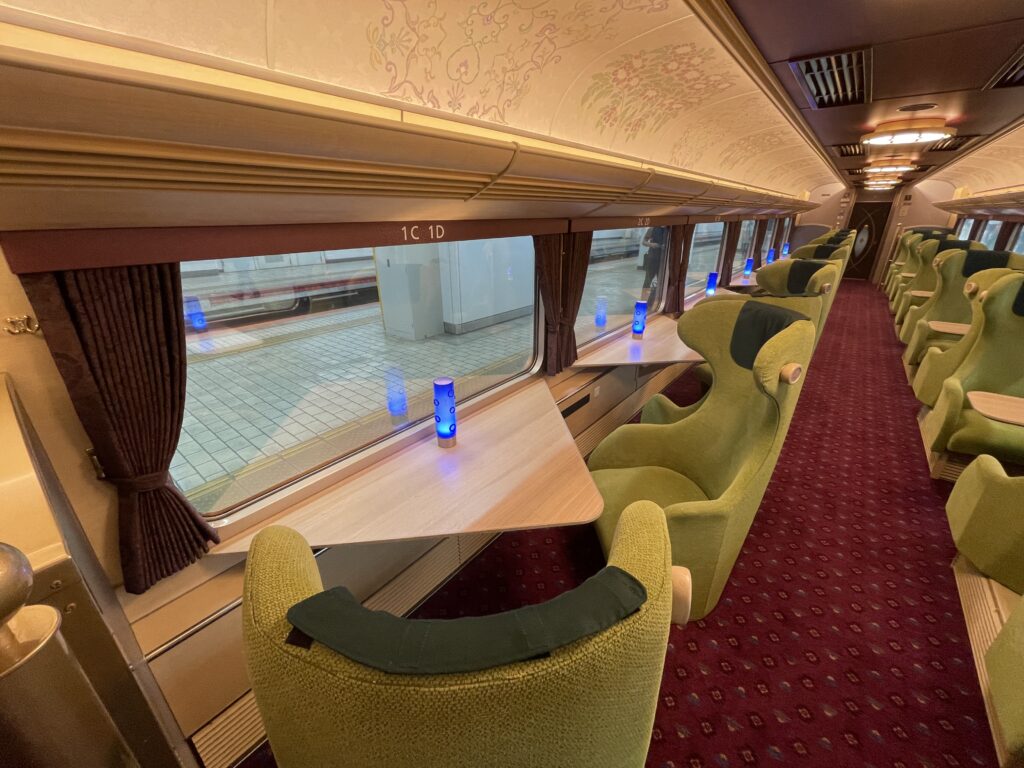 車内の様子です。今回は外の景色が眺めやすいように、向かって左側の座席にしました。
Here is a view of the inside of the car. This time, I chose a seat on the left side of the train so that I could easily see the scenery outside.
☆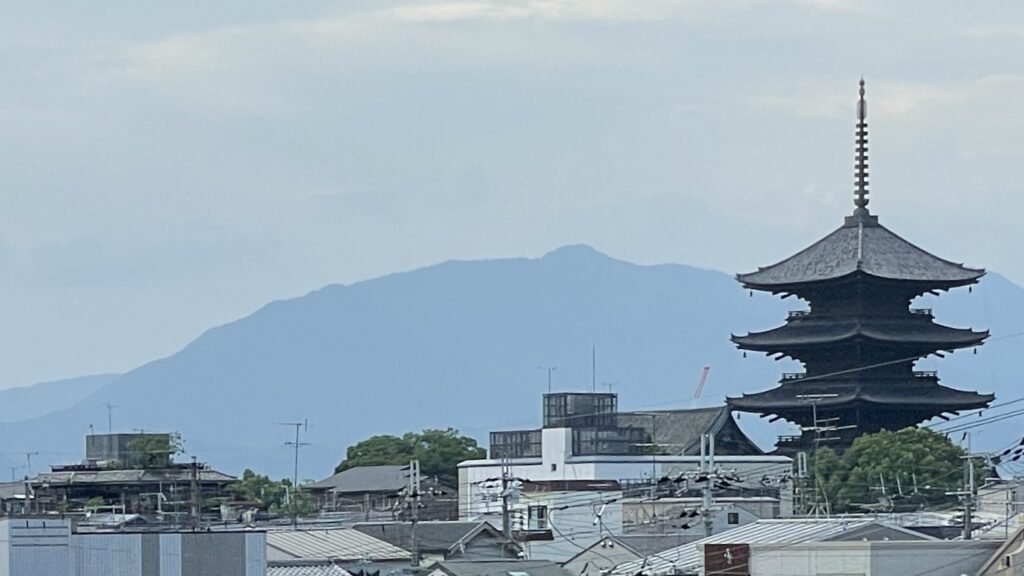 京都を出発すると、「東寺さん」が右手に見えてきます。
As you leave Kyoto, you will see the "five-story pagoda of Toji Temple" on your right.
☆
そして、奈良駅に近づくと右手には平城宮跡に再現された朱雀門の側を通り抜けます。
Then, as the train approaches Nara Station, it passes by the Suzaku-mon Gate (the main gate of the capital), which is a reproduction of the palace ruins of the Nara Period (710-794 AD) on the right side of the train.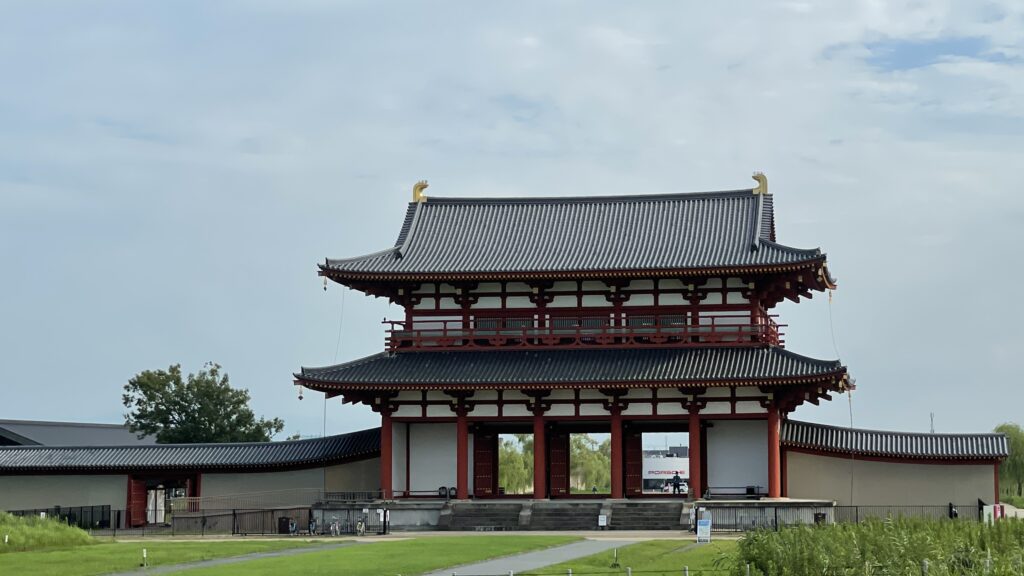 この区間は、古代の宮廷の跡の真ん中を鉄道の線路が走っていて、日本の歴史を感じさせてくれる場所です。
In this section, the railroad tracks run through the middle of the ruins of an ancient court.
☆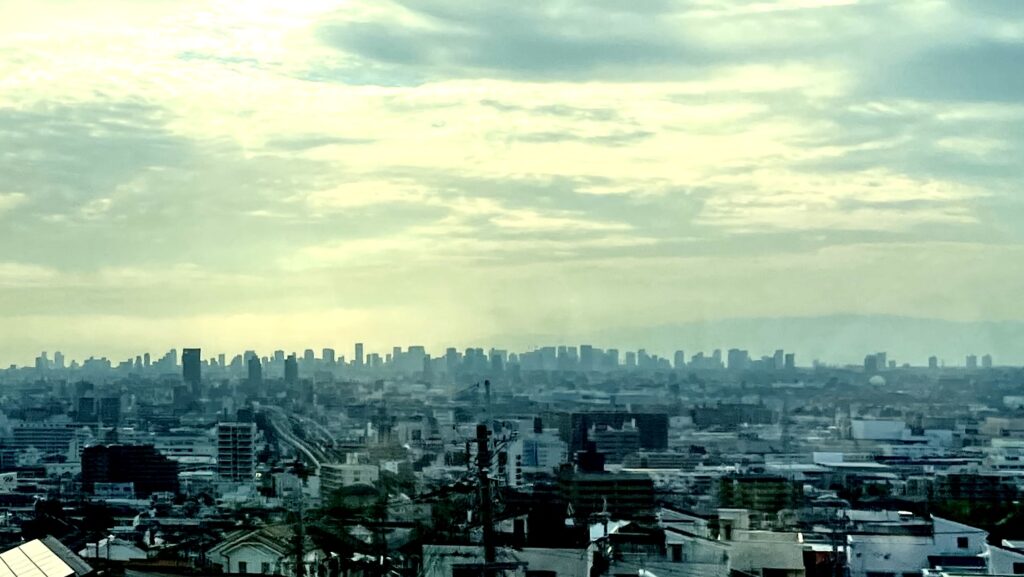 奈良盆地から生駒山のトンネルを抜けると、右手には大阪平野の風景が広がります。
After passing through the Ikoma Mountain tunnel from the Nara Basin, the Osaka Plain opens up on the right.
遠景には、大阪市中心部の高層ビル群も見えています。
In the distance, skyscrapers in the center of Osaka City can be seen.
☆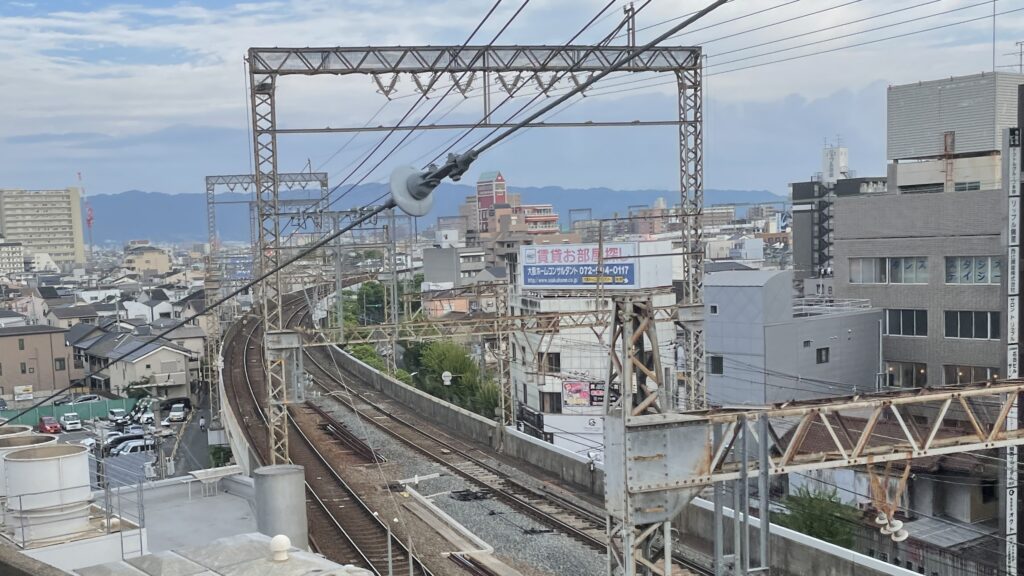 東大阪市の布施駅付近です。
It is near Fuse Station in Higashiosaka City.
左手後方に伸びる線路は、三重県、愛知県に向かう近鉄電車の路線です。
The railroad tracks extending to the rear on the left are Kintetsu Railway lines heading to Mie and Aichi prefectures.
☆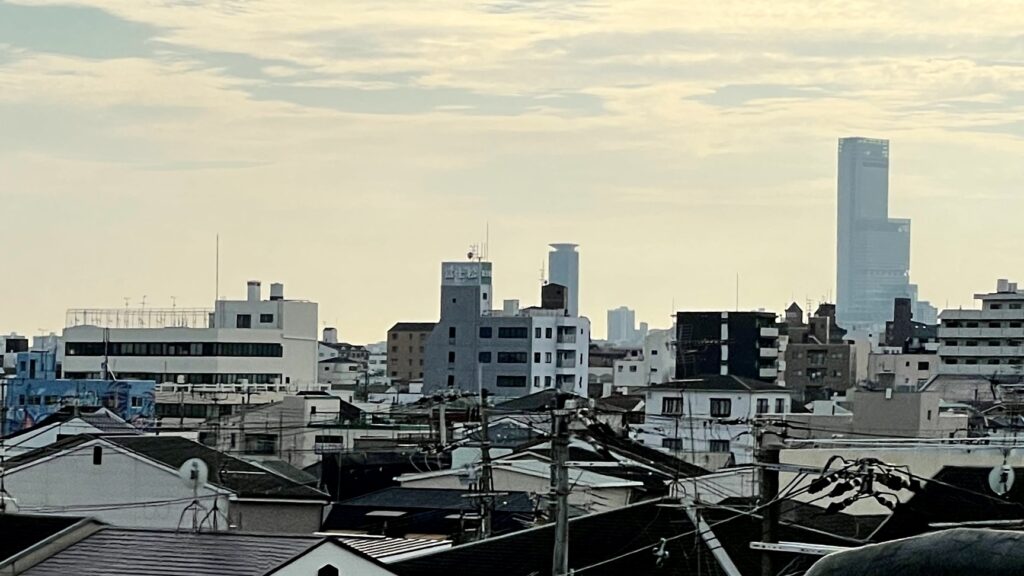 そして左手進行方向には高さ300mのビル、「あべのハルカス」が見えています。
And in the direction of travel on the left, you can see Abeno Harukas, a 300-meter-high building.
☆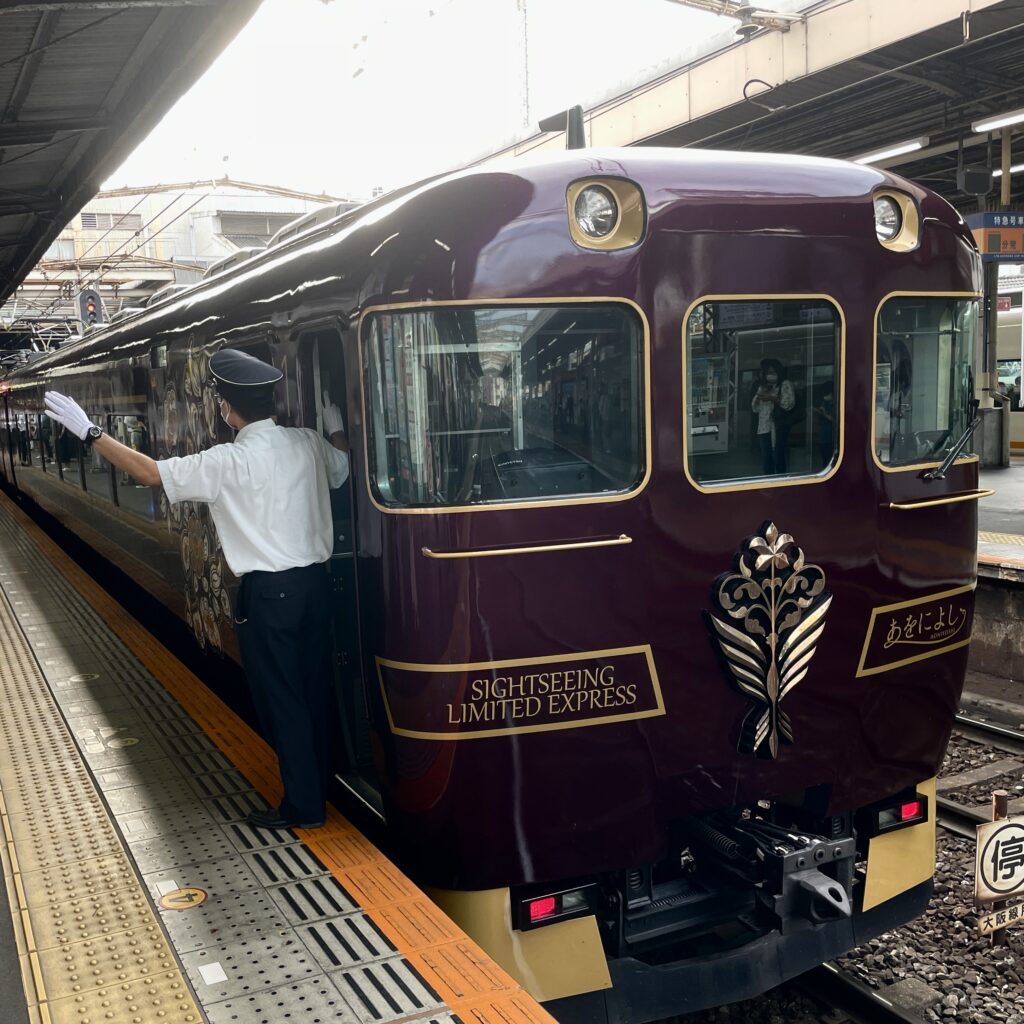 ふと思い立って、途中の鶴橋駅で下車しました。
On a whim, I got off at the Tsuruhashi station on the way.
この後の「街歩き」の様子は、次回のブログで紹介致します。
The "city walk" that follows will be presented by me in my next blog.
☆
ご拝読、有難うございました。
Thank you for your reading this post.
またのお越しを、お待ちしています。
I'm looking forward to your next visit.