021 From Kyoto to Tokyo by Hokuriku Shinkansen
< English is below >
今回の目的地は、東京・新宿。
ちょっと遠回りして、切符も一筆書きの旅としました。
The destination this time is Shinjuku, Tokyo.
I made a detour a little and made the ticket a one-stroke trip.
☆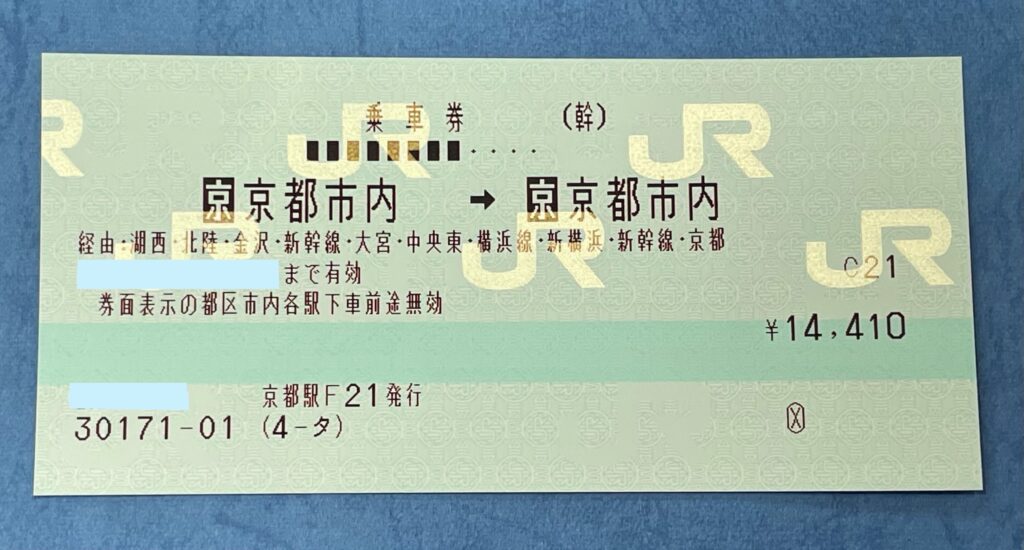 ⬆️ Basic Fare Ticket ⬆️
From Kyoto city area to Kyoto city area
Via Kosei ( line ) , Hokuriku ( line ) , Kanazawa , ( Hokuriku ) Shinkansen , O-miya , Chu-o ( line ) , Yokohama line ,
Shin-yokohama , ( Tokaido ) Shinkansen , Kyoto .
乗車した列車は、次のとおりです。
京都(特急・サンダーバード)金沢(北陸新幹線)大宮(特急・きぬがわ)新宿。
The trains I boarded are as follows.
Kyoto (Limited Express / Thunderbird) Kanazawa (Hokuriku Shinkansen) Omiya (Limited Express / Kinugawa) Shinjuku.
☆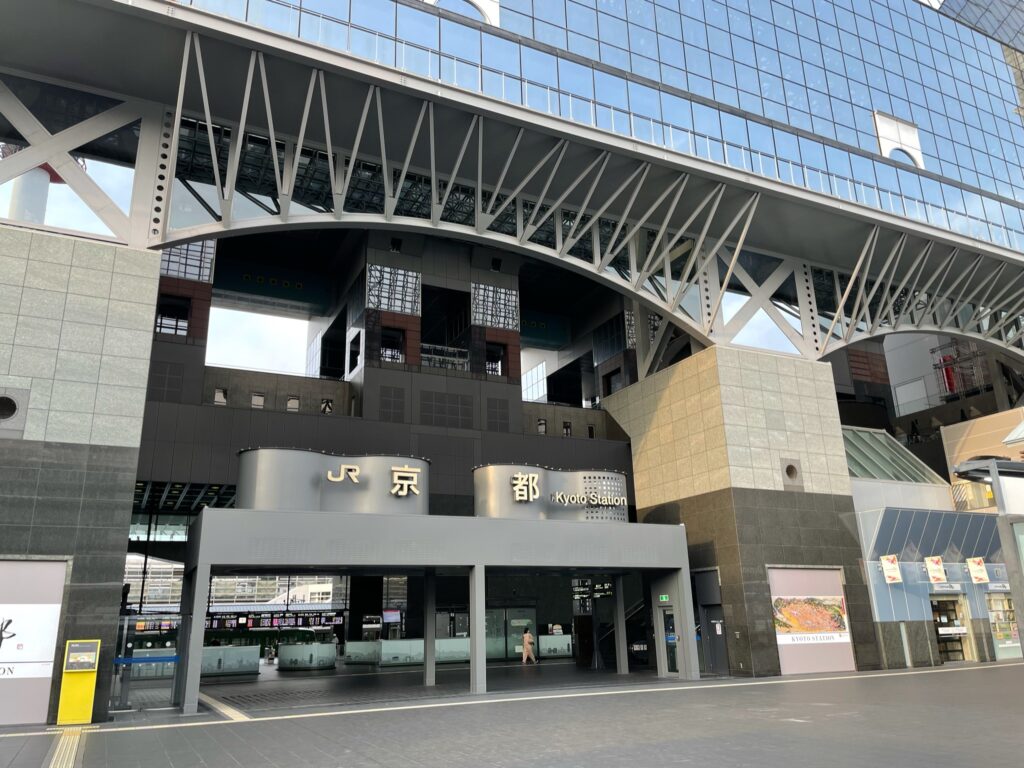 まずは、朝の京都駅。
休日の午前6時とあって、人通りもまばらです。
First of all, Kyoto station in the morning.
It's 6 am on a holiday, so the traffic is sparse.
☆
最初の列車は、特急・サンダーバード1号。
終着駅・金沢までの途中停車駅は、敦賀と福井のみ。最速の列車です。
The first train is the limited express Thunderbird No. 1.
Tsuruga and Fukui are the only stations that stop on the way to the final station, Kanazawa. The fastest train.
☆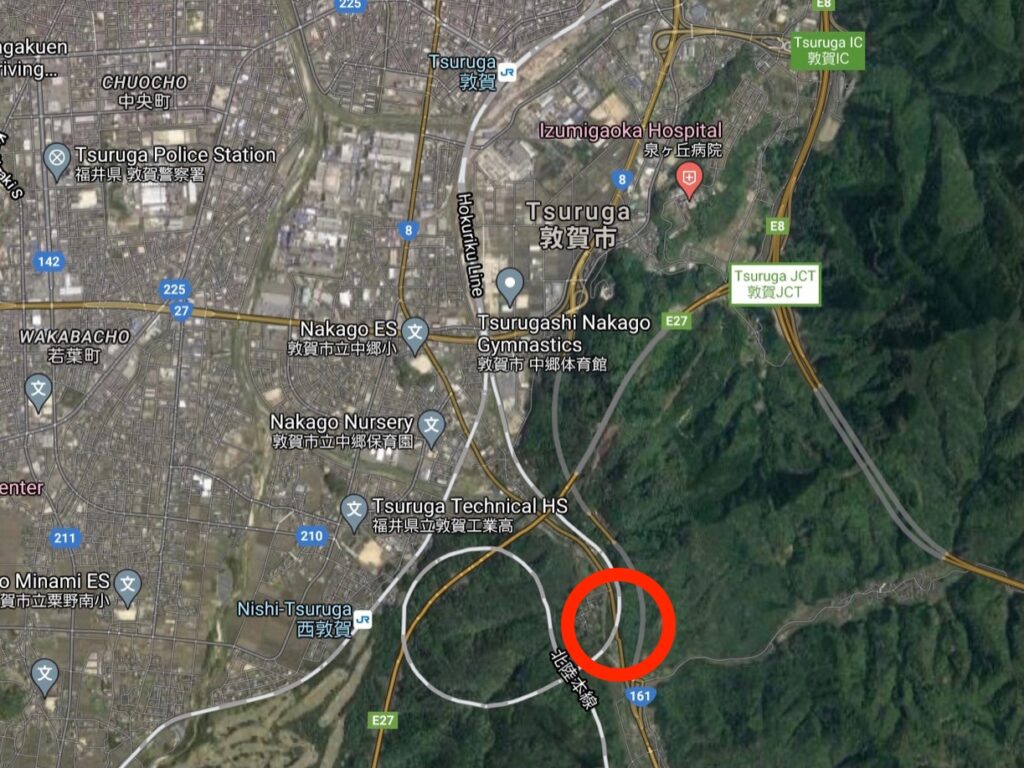 途中、敦賀の手前では反対方向の線路が大きく旋回する「鳩原ループ線」があります。
On the way, in front of Tsuruga, there is the "Hatohara Loop Line" where the track in the opposite direction makes a big turn.
☆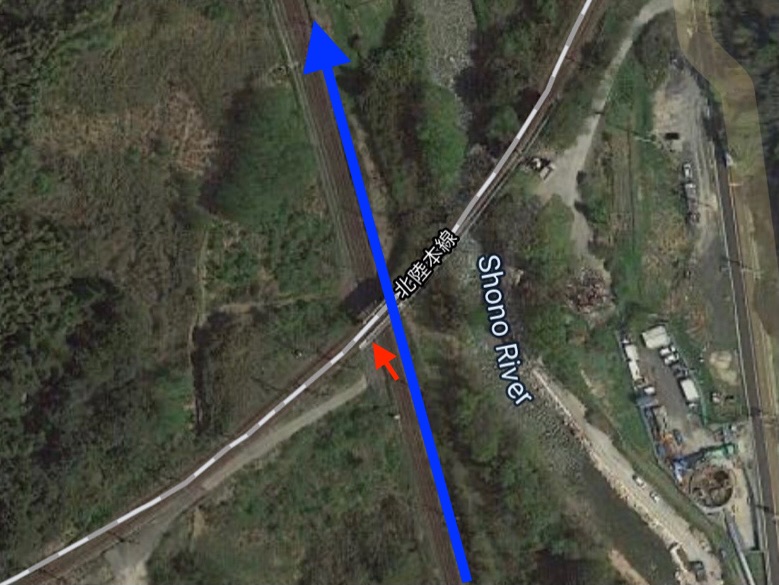 私が乗る金沢行きの線路は、青い矢印の部分。
その上を交差する、大阪方面行きの線路を写真に収めようとしたのですが、、
The railroad track to Kanazawa that I ride is the part indicated by the blue arrow.
I tried to take a picture of the railroad track for Osaka that crosses over it, but …
☆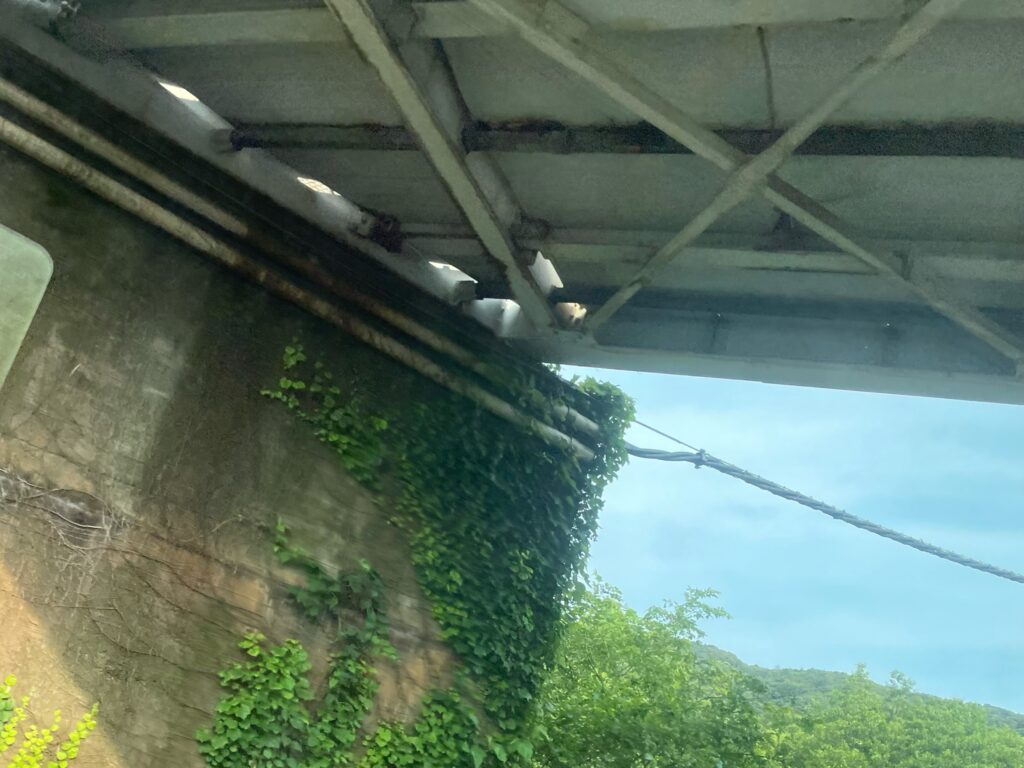 真下を通る瞬間の写真となってしまいました。
It has become a picture of the moment when it passes underneath.
☆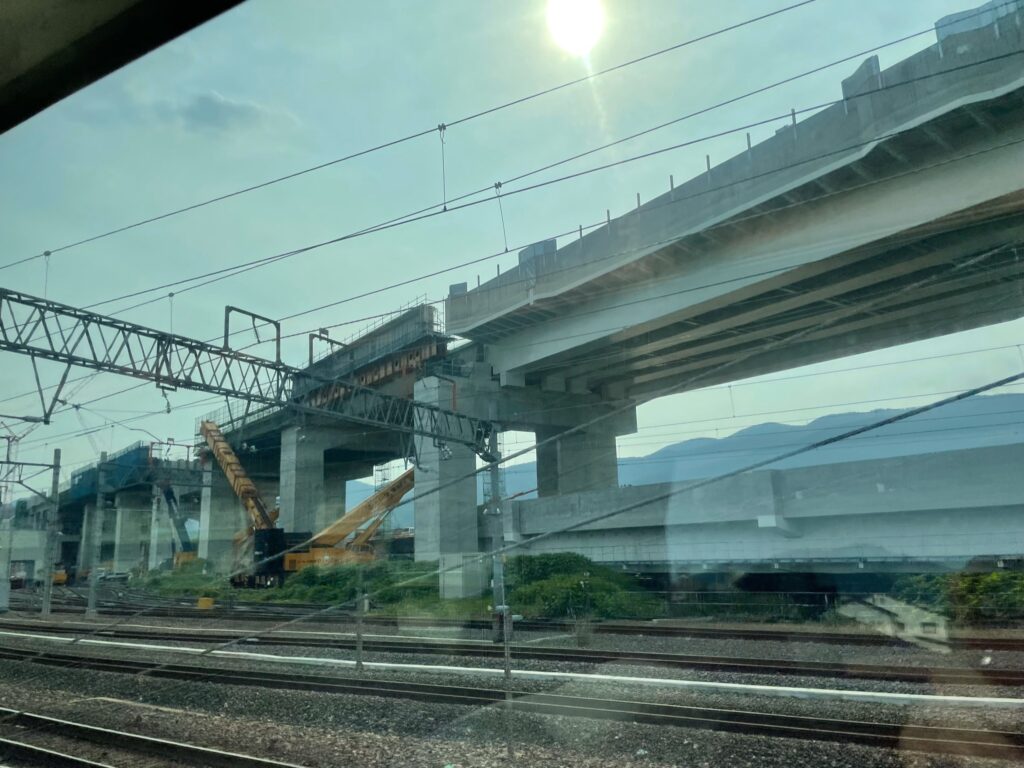 敦賀駅の手前では、2024年の春に開業が見込まれる北陸新幹線の工事が進んでいました。
京都在住の私としては、新幹線が敦賀まで来ることが、少し不思議な感じもします。
In front of Tsuruga Station, construction of the Hokuriku Shinkansen, which is expected to open in the spring of 2024, was underway.
For me, who lives in Kyoto, it seems a little strange that the Shinkansen will come to Tsuruga.
☆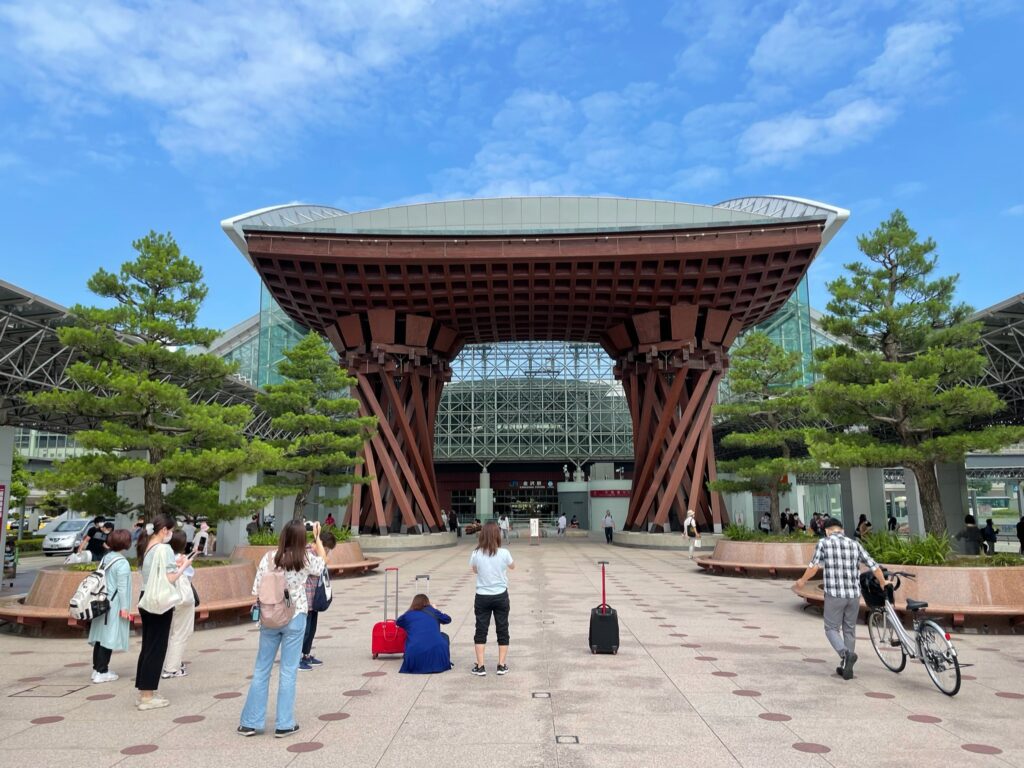 そして金沢駅。
加賀百万石を彷彿とさせます。
And Kanazawa station.
It is reminiscent of Kaga Hyakumangoku.
https://www.ishikawatravel.jp/en/
☆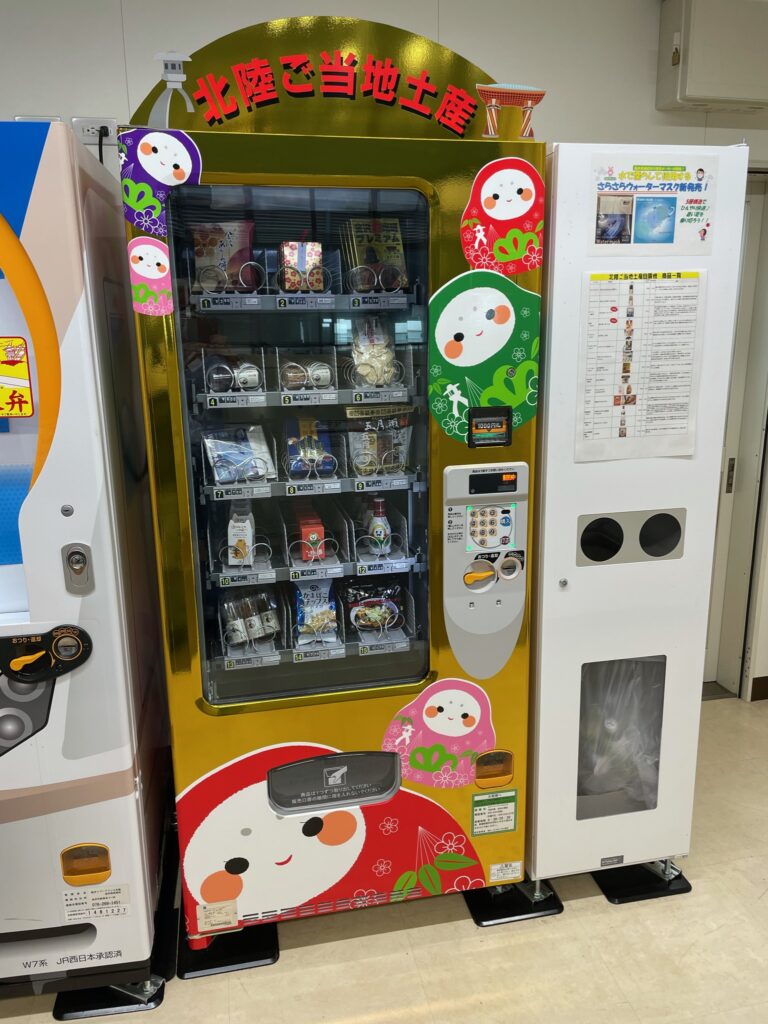 新幹線ホームには、お土産の自動販売機がありました。
ついつい、見入ってしまいますね。
There was a souvenir vending machine at the Shinkansen platform.
I found it unintentionally.
☆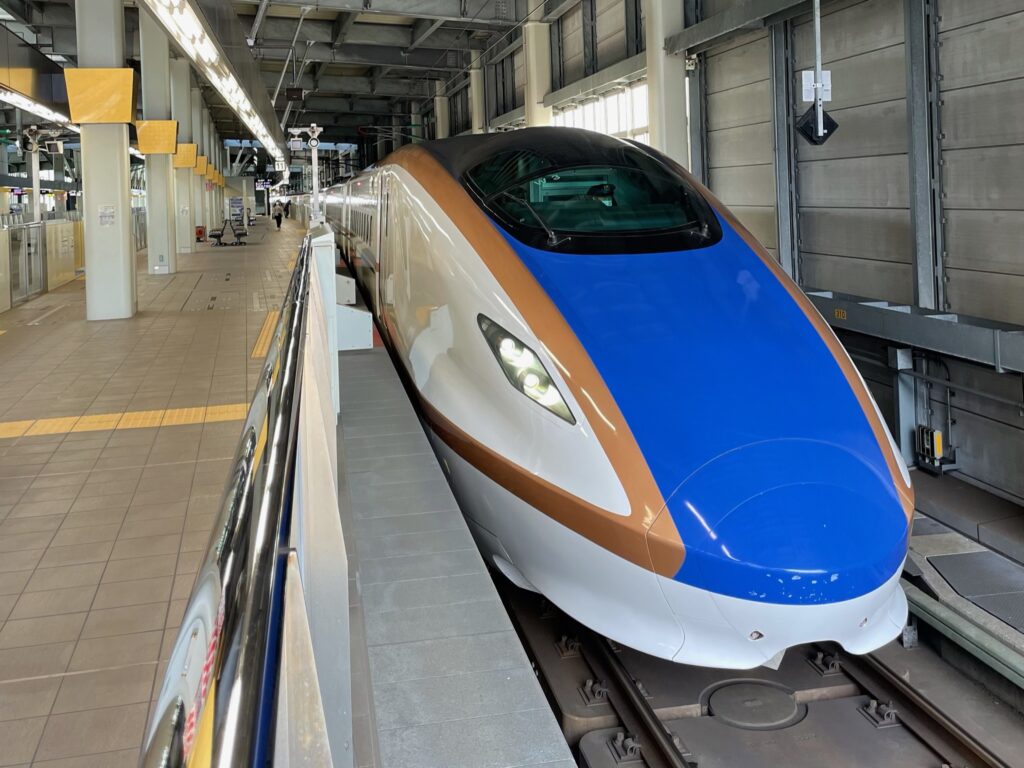 いよいよ、北陸新幹線とご対面です。
新幹線車両の中で、最も好みの外観です。
金色のラインが、カッコイイです。
It's finally time to meet the Hokuriku Shinkansen.
This is the most favorite appearance of all Shinkansen trains.
The golden line is cool.
☆
では、乗車しましょう。
Let's get on.
☆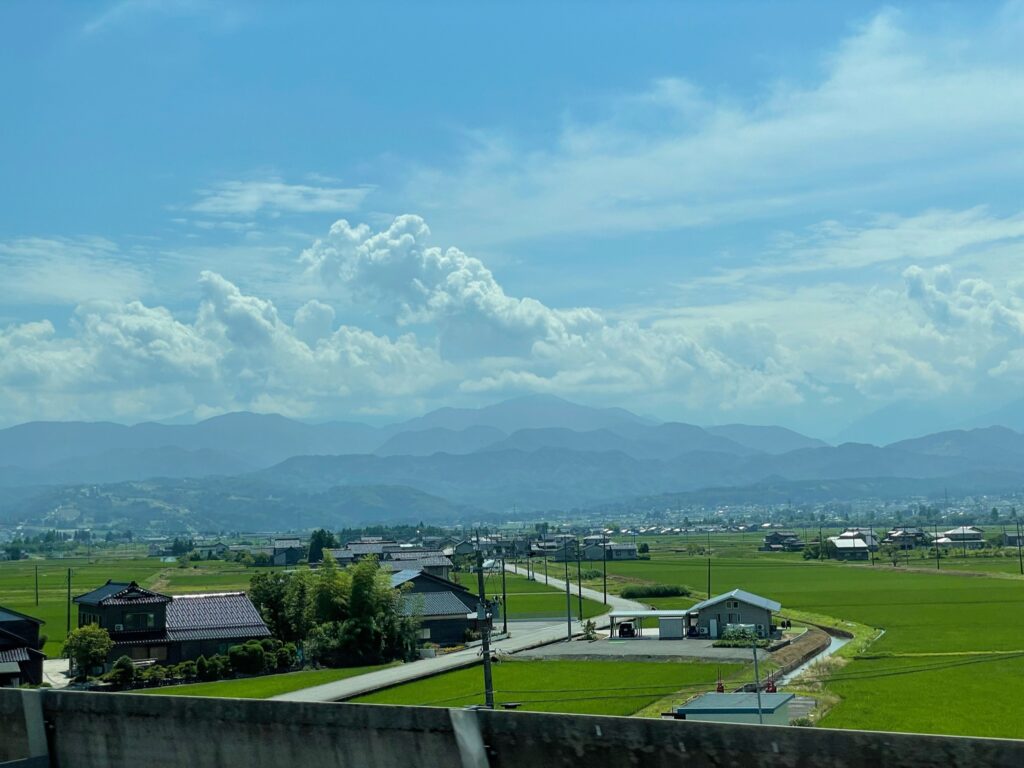 富山を過ぎると、右手のには(たぶん)立山連峰が見えてきます。
After passing Toyama, you will (probably) see the Tateyama mountain range on your right.
☆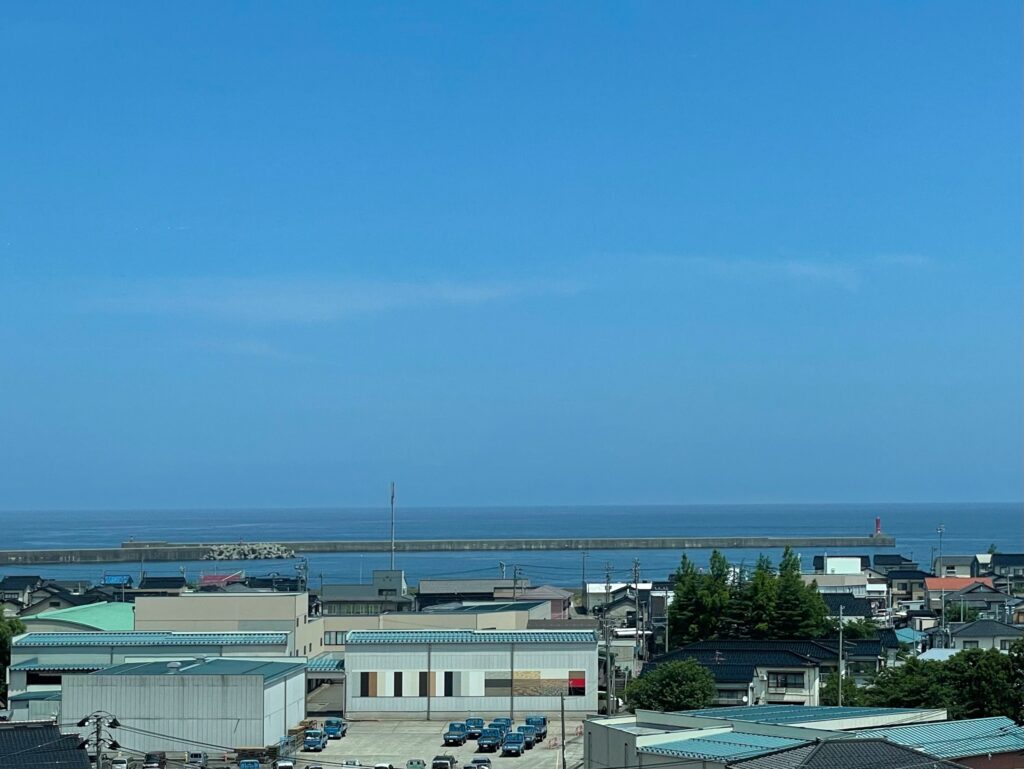 糸魚川あたりでは、左手に日本海を望むことができます。
海の色、綺麗ですね。
Around Itoigawa, you can see the Sea of Japan on your left.
The color of the sea is beautiful.
☆
高崎駅の手前では、同じ北陸新幹線とすれ違い。
その後、程なく大宮に到着です。
In front of Takasaki Station, I passed the same Hokuriku Shinkansen.
After that, we arrived at Omiya soon.
☆
そして、大宮駅では、、
And at Omiya station,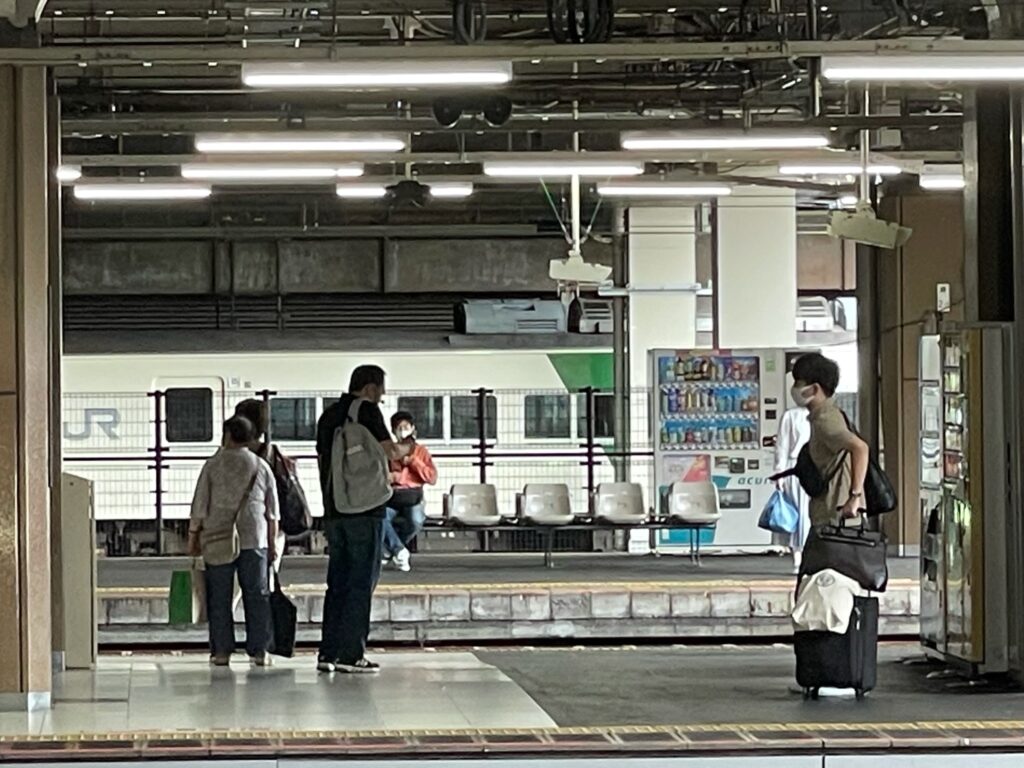 この3月に定期列車運用を離脱した、185系車両に出会えました。
これも、私が好きな車両の一つです。
I was able to meet a 185 series train that left regular train operation in March.
This is also one of my favorite trains.
☆
大宮からは、偶然にタイミングの合った特急・きぬがわに乗車。
From Omiya, I happened to board the limited express Kinugawa at the right time.
☆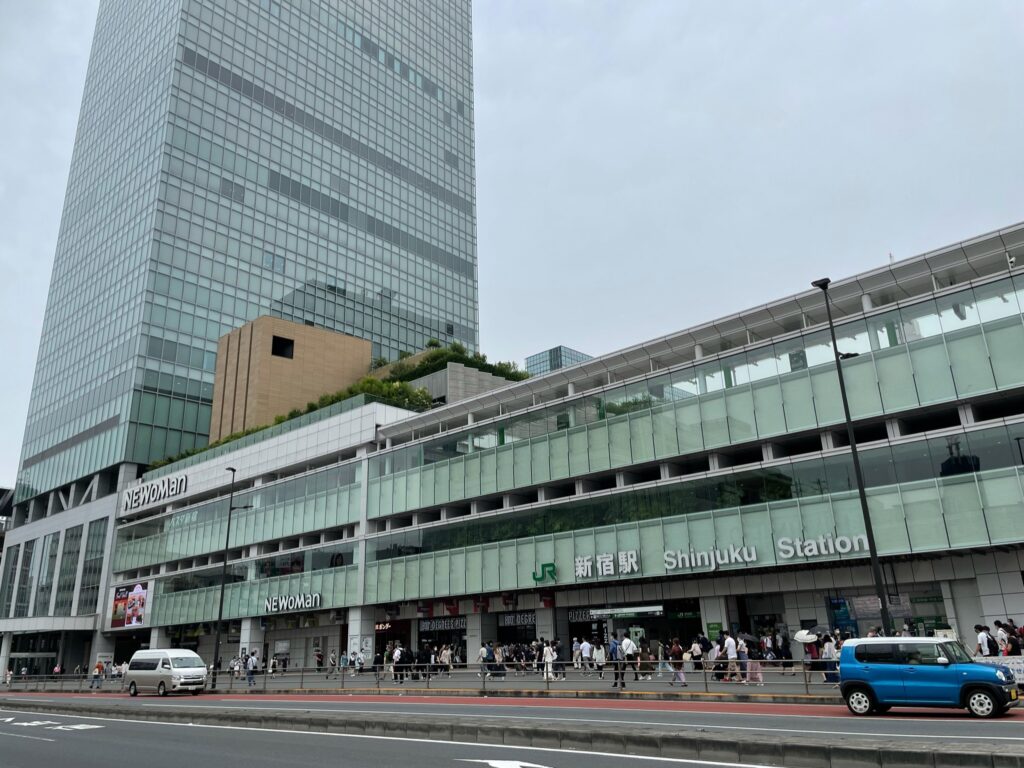 こうして、およそ6時間をかけて、今回の目的地である東京・新宿に到着しました。
(京都から東海道新幹線を利用すれば、2時間半で来ることができます。)
In this way, it took about 6 hours to arrive at my destination, Shinjuku, Tokyo.
(If you take the Tokaido Shinkansen from Kyoto, you can get there in two and a half hours.)
☆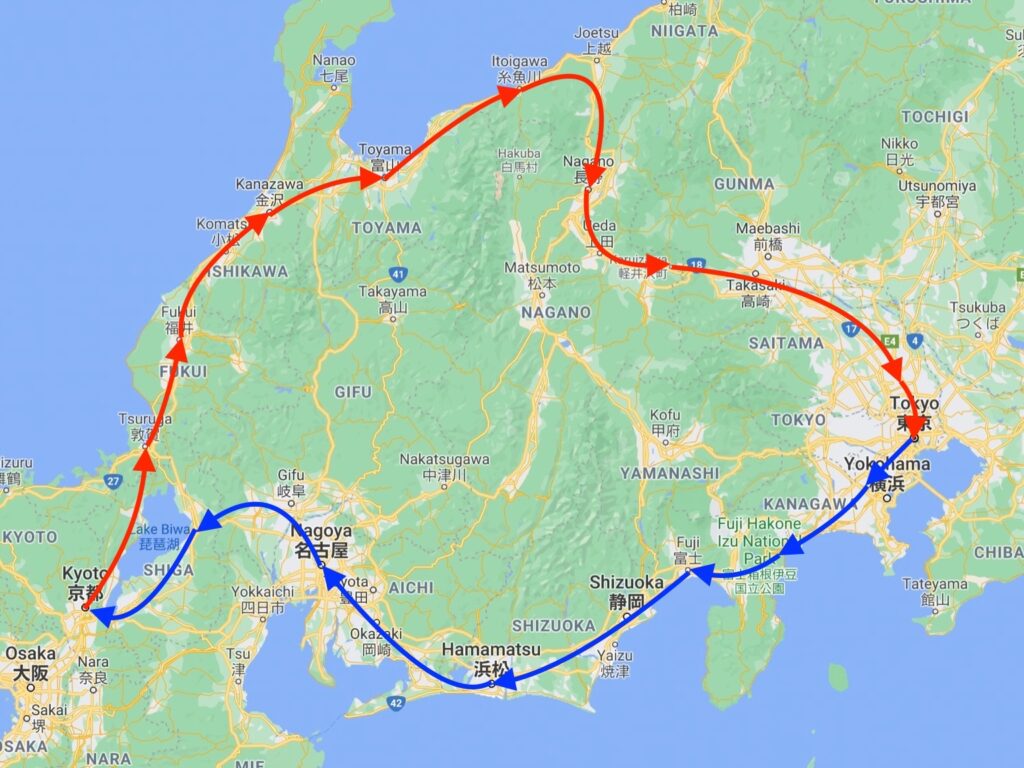 今回のルートです。
往路が北陸新幹線経由の、赤いライン。復路が東海道新幹線経由の青いラインです。
This is the route.
The red line on the outbound route via the Hokuriku Shinkansen. The return route is the blue line via the Tokaido Shinkansen.
☆
帰り道
The return trip,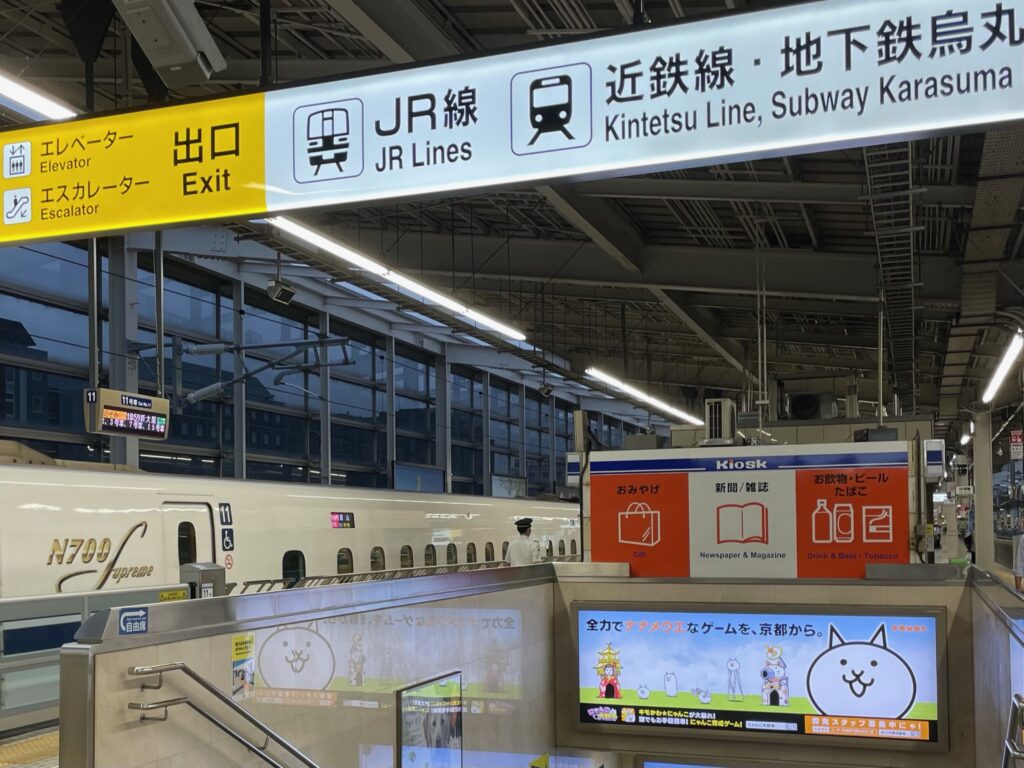 新横浜から京都まで、瞬く間でした。。
It was a short time from Shin-Yokohama to Kyoto. ..
ご拝読、有難うございました。
またのお越しを、お待ちしています。
Thank you for your reading this post.
I'm looking forward to your next visit.