( "Edo" was the name for "Tokyo" until 1868. )
山形県への日帰り旅行への夜、東京の大森という街のお寿司屋さんでの夕食でした。
It was dinner at a sushi restaurant in the city of Omori, Tokyo, on the evening of a day trip to Yamagata Prefecture.
そこにいらっしゃったお客さんとお店の方の会話が聞こえてきました。
I heard a conversation between a customer there and a store owner.
「明日は、酉の市だよね。。」
Tomorrow is "tori – no – ichi", isn't it?
酉の市???
" tori – no – ichi " ???
京都に住む私には、馴染みのない言葉です。
I live in Kyoto, so I am not familiar with the term.
聞こえてくる会話から、酉の市は主に首都圏にあるいくつかの神社の祭礼で、毎年11月に2度か3度、縁日があるものだそうです。
From the conversations I heard, "tori – no – ichi" is a festival of several shrines, mainly in the Tokyo metropolitan area, with two or three fairs in November each year.
For more information on "Tori – no – Ichi", please click here.
( Here is a link to another shrine's website, but it was explained in English. )
☆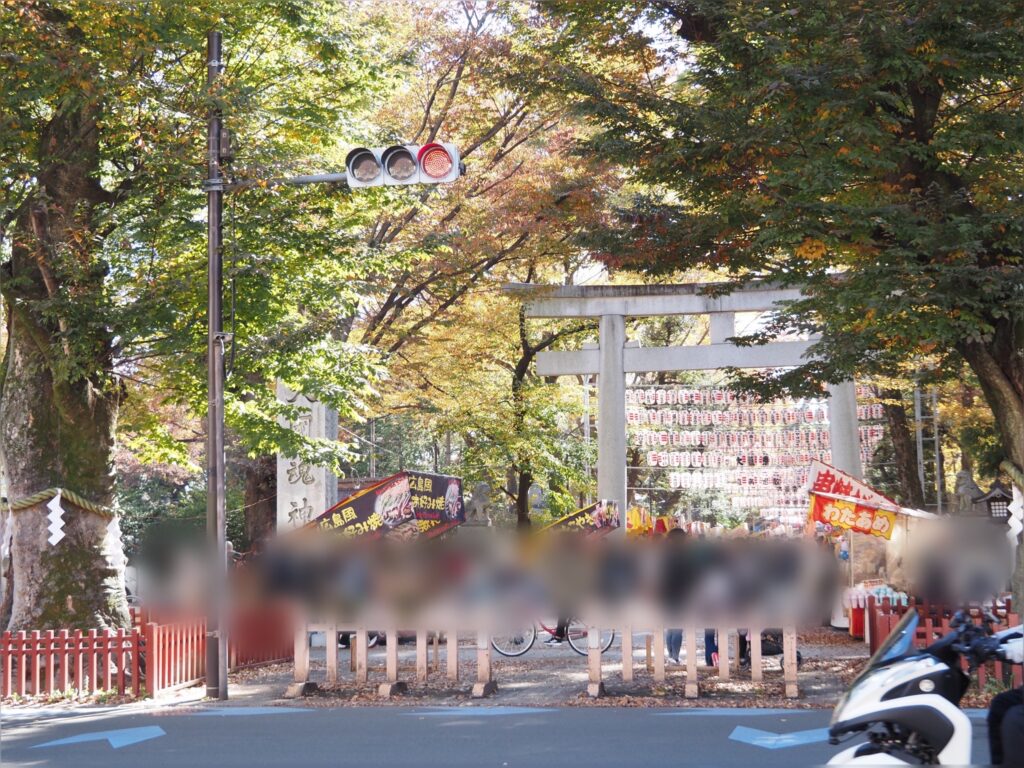 ということで次の日、次の宿泊地に近い、東京都府中市にある「大國魂神社」の酉の市にやってきました。
So the next day, I came to " tori – no – ichi " in " O – kunitama – jinka (shrine) " in Fuchu City, Tokyo, near my next place of stay.
この日は平日であったにも関わらず、そこそこの人出で賑わっていました。
Even though it was a weekday, the place was crowded.
☆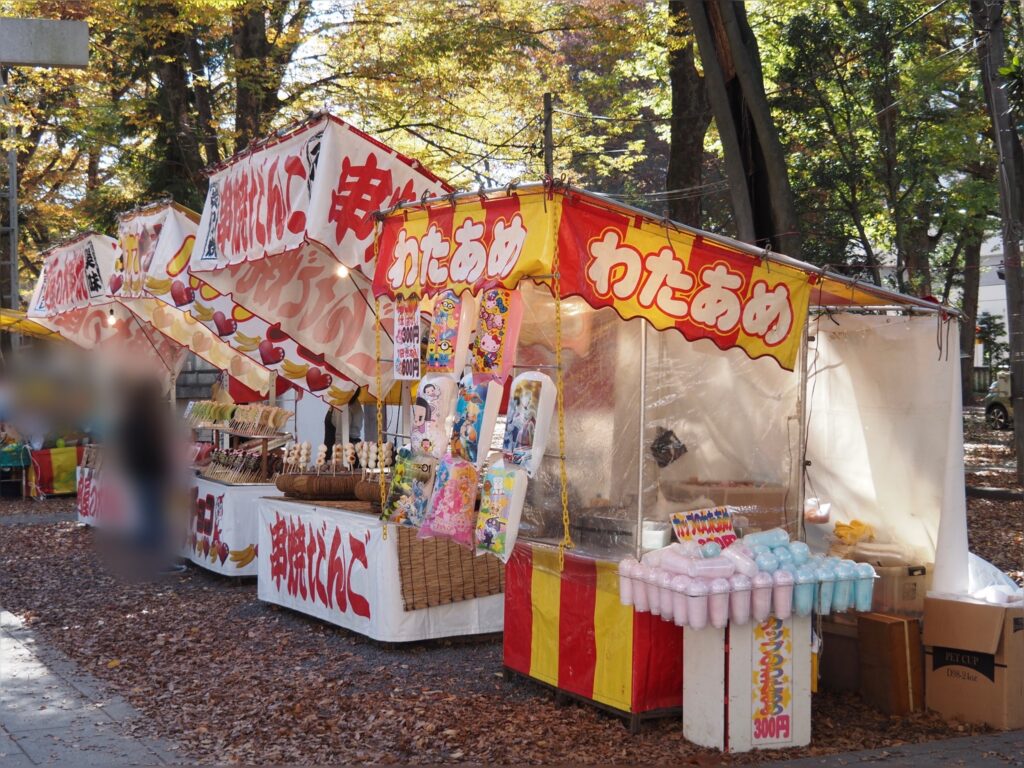 参道に、縁日には欠かせない「露店」が並んでいます。
Stalls, an essential part of the fair, line the approach to the shrine.
いくつになっても、この光景はテンションが上がります。
No matter how old I get, this sight gets me excited.
☆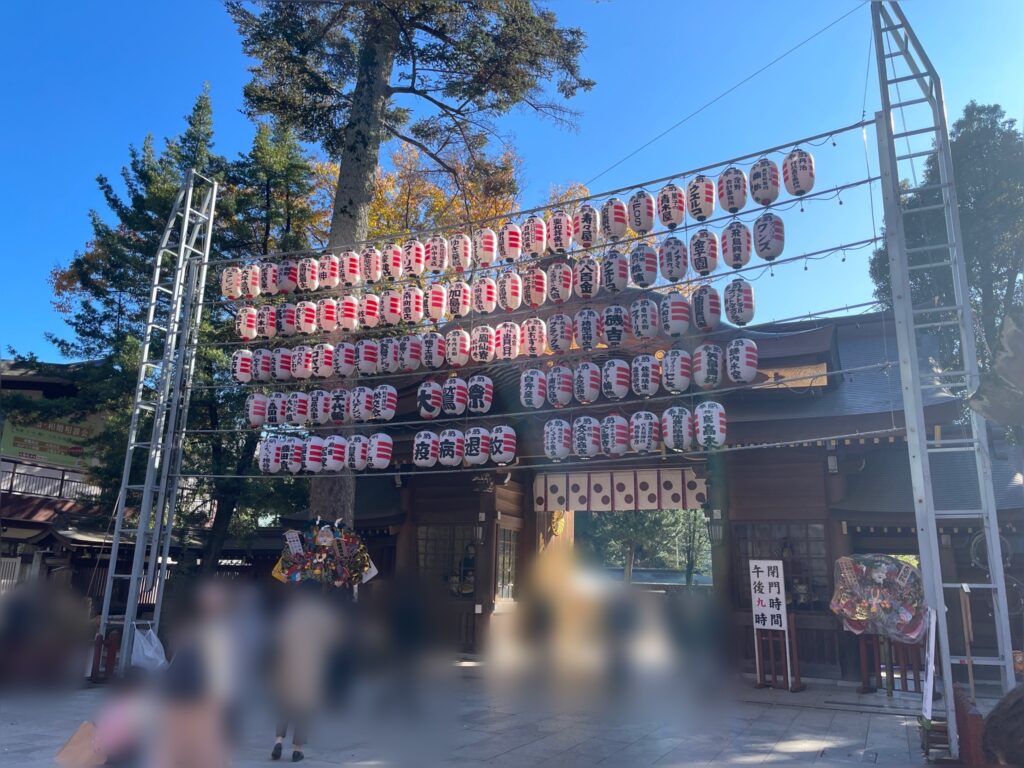 本殿に向かう入り口です。この提灯が、祭礼の雰囲気を醸し出しています。
This is the entrance to the main shrine. These lanterns create a festive atmosphere.
☆
そして、入口の左側には、
And to the left of the gate,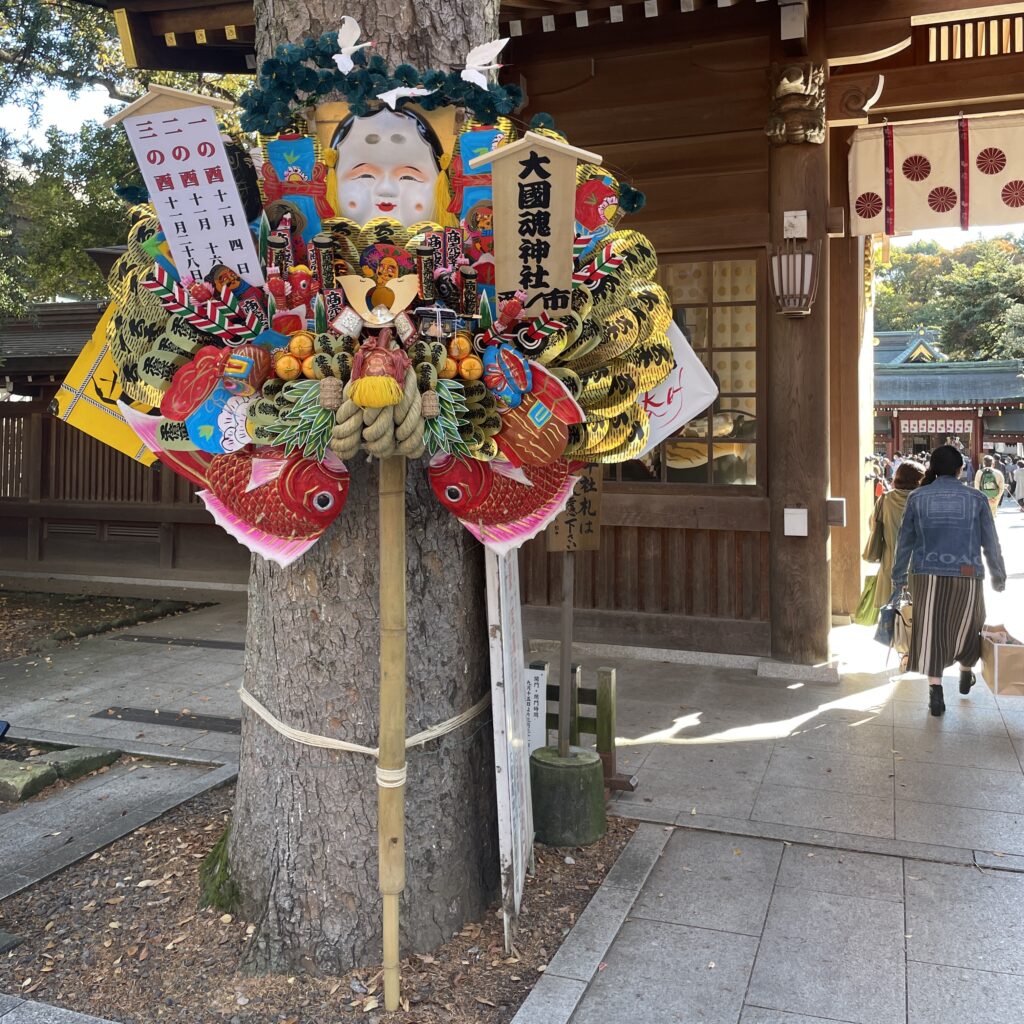 「福」をかき集めるとされる、飾り物を纏った「熊手」がありました。
There was a " Kumade ( = rake ) " dressed in ornaments that was said to stir up "good fortune".
迫力があって、とても縁起が良さそうです。
It looks powerful and very auspicious.
☆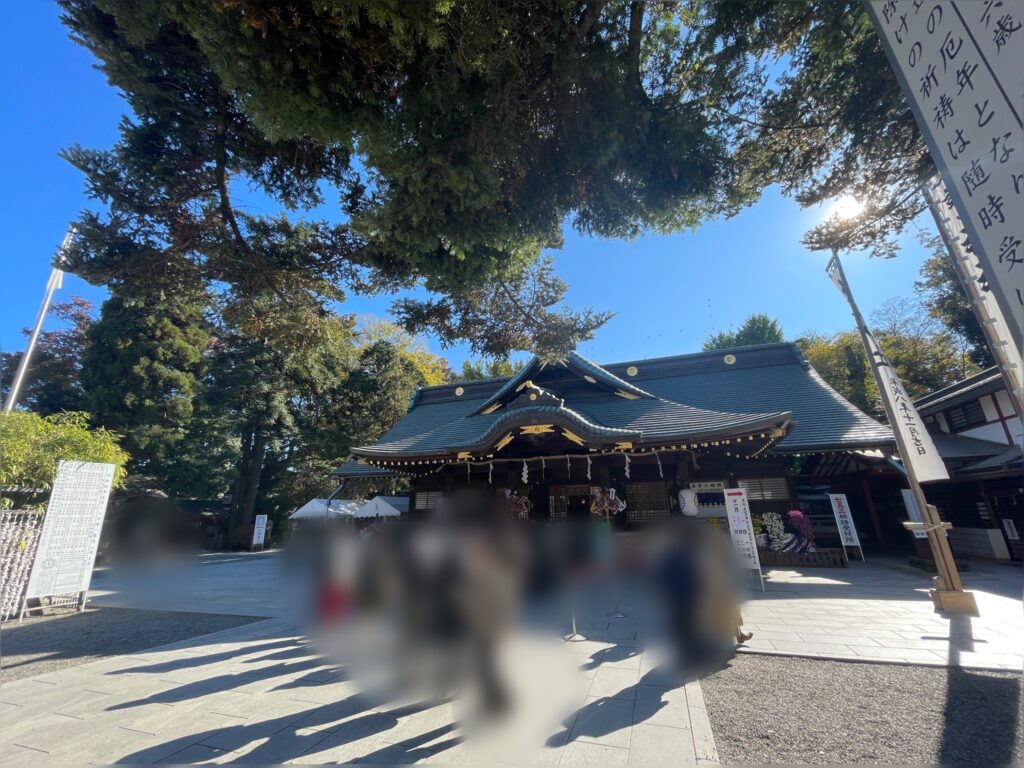 本殿では参拝された方々が、それぞれの願いを祈っておられました。
In the main shrine, worshippers prayed for their wishes.
☆
では、いよいよお待ちかねのランチタイムです!
Now it's time for the lunch I've been waiting for!
☆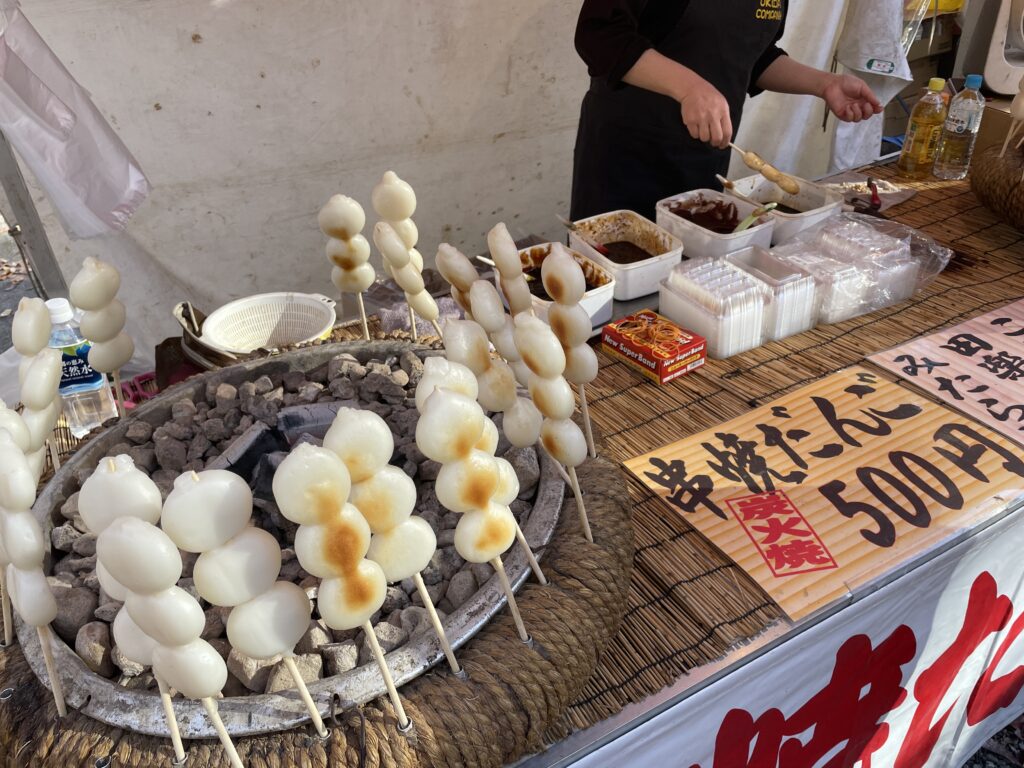 まずは、お腹を満たすために「おだんご」を「醤油味」でいただきます。
First, to fill your stomach, you can have "dango" with "soy sauce flavor".
( "Dango" is a Japanese dumpling made of rice flour. )
これ、「おだんご」と言っても「お餅」のサイズですよね。。
☆
続いては、
And then,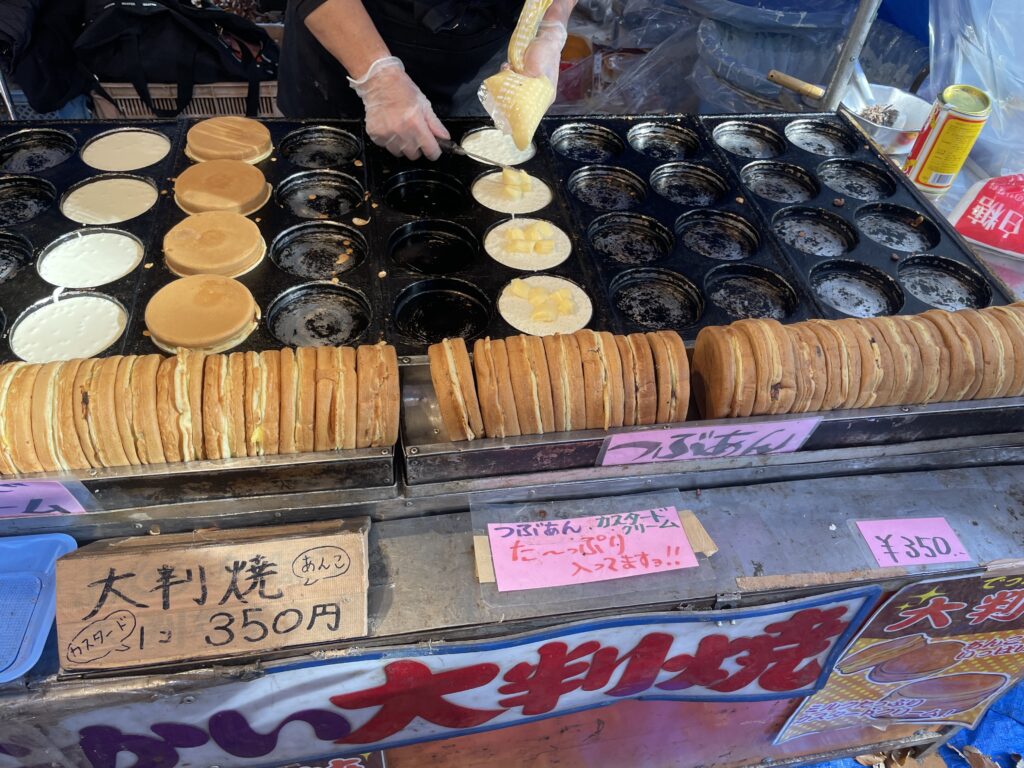 ほんとに大判な「大判焼」でした。
It's Japanese pancakes with red bean paste.
チョイスは、やっぱり「つぶあん」ですね!
Others were filled with custard cream.
☆
そして、そして、、
And, and,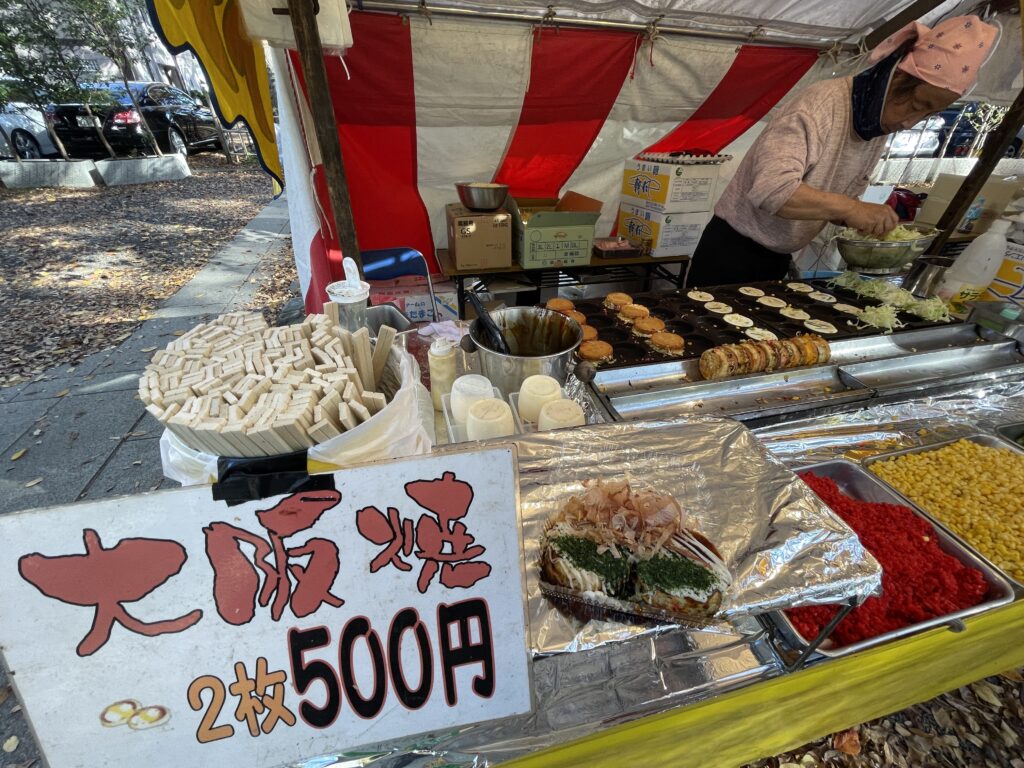 「大阪焼」なるものと、初めて出会いました。
Osaka-style japanese pancake was also available.
先ほどの「大判焼」の、「お好み焼き風味」バージョンでした。
Osaka-style japanese pancake" is "Okonomiyaki
It is made by mixing flour with water and cabbage, grilling it on a griddle with meat, and seasoning it with Worcestershire sauce or other seasonings.
☆
ランチを堪能した後は、縁起物の「熊手」です。
After enjoying lunch, I go to see the "rake" stand, which is a good-luck item.
熊手をを購入された人に対しては、お店の人が来年の商売繁盛を願って「三本締め」をしてくださいます。
For those who have purchased a rake, the store staff will perform the " Sambon – jime " ceremony, wishing for a prosperous business in the coming year.
( Sambon-jime = " 3-3-3-1 hand-clapping pattern " × 3times to celebrate )
この景気の良さは、京都住まいの私にはとても新鮮で、この旅一番の印象深さになりました。
The power of this scene was very new to me as a Kyoto resident, and it was the most impressive part of the trip.
新幹線で2時間ほどの距離ですが、京都と東京の文化の違いを強く感じた光景でした。
Although only two hours away by Shinkansen, it was a sight that made me strongly feel the cultural differences between Kyoto and Tokyo.
東京散策、もう少し続きます。
Tokyo Exploration, a little more to follow.
☆
ご拝読、有難うございました。
Thank you for your reading this post.
またのお越しを、お待ちしています。
I'm looking forward to your next visit.