016 A short trip around Lake Biwa on the way home from work 1/2
< English is below >
今回も「大回り乗車」での、週末小旅行です。
※ 大回り乗車とは、次の規則を活用したJRの利用方法です。
https://www.jr-odekake.net/railroad/ticket/guide/normal_tickets/special_provisions06.html
This time is also a weekend excursion with a "large round trip".
Large round trip is a method of using JR that utilizes the following rules.
If you use a regular ticket or a multiple ticket only within the metropolitan suburbs section of the JR line, you can board at the fare calculated by the cheapest route regardless of the actual route. I will.
You can freely choose the boarding route as long as it does not overlap, but you cannot get off the bus on the way. If you get off on the way, you will be charged the difference if it is insufficient compared to the fare of the section you actually boarded.
☆
夕刻の京都駅からスタートです。
It starts from Kyoto station in the evening.
☆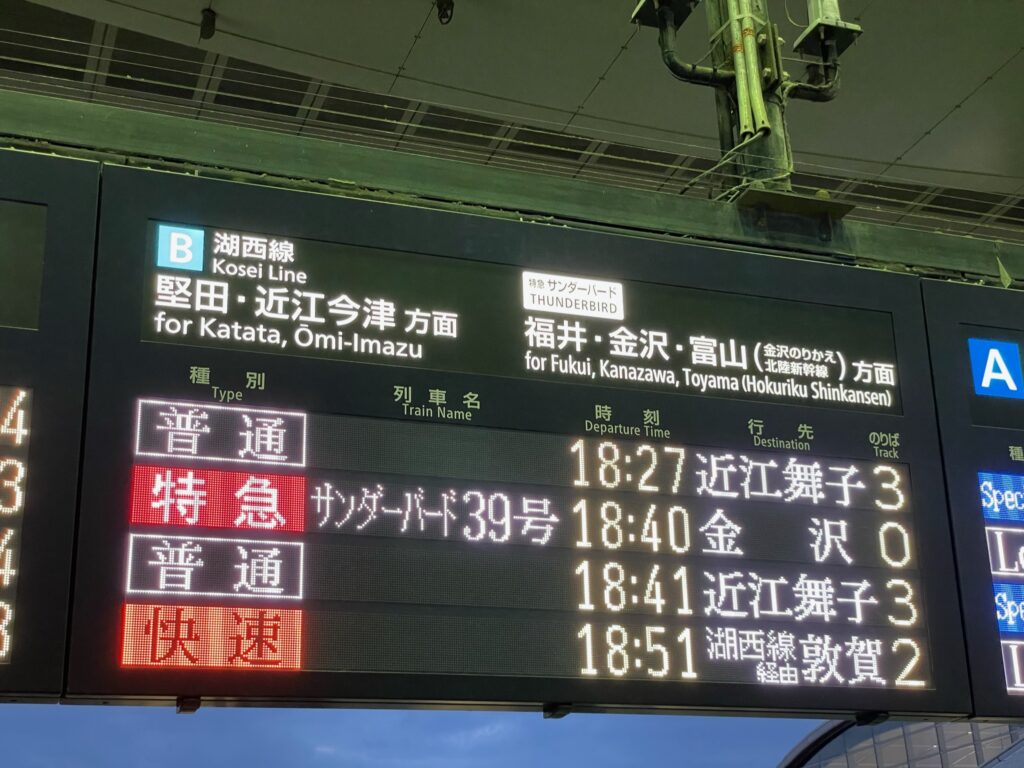 最初の列車は18:51発の湖西線経由の「快速」敦賀行きです。
新快速が多く走る湖西線で、1往復だけ走る快速です。
The first train departs at 18:51 "Rapid" for Tsuruga via the Kosei Line.
It is a Rapid train that runs only one round trip on the Kosei Line, which runs a lot of Special Rapid .
☆
しかもこの快速の停車駅は、新快速の停車駅に1駅・おごと温泉を加えただけになっています。
What's more, this Rapid stop is just one station, "Ogoto-onsen", added to the Special Rapid stop.
https://www.jr-odekake.net/station/pdf/teisya_03.pdf
なぜこのような列車を一日に1便だけ設定したのかは謎です。
It is a mystery why JR sets up only one such train a day.
☆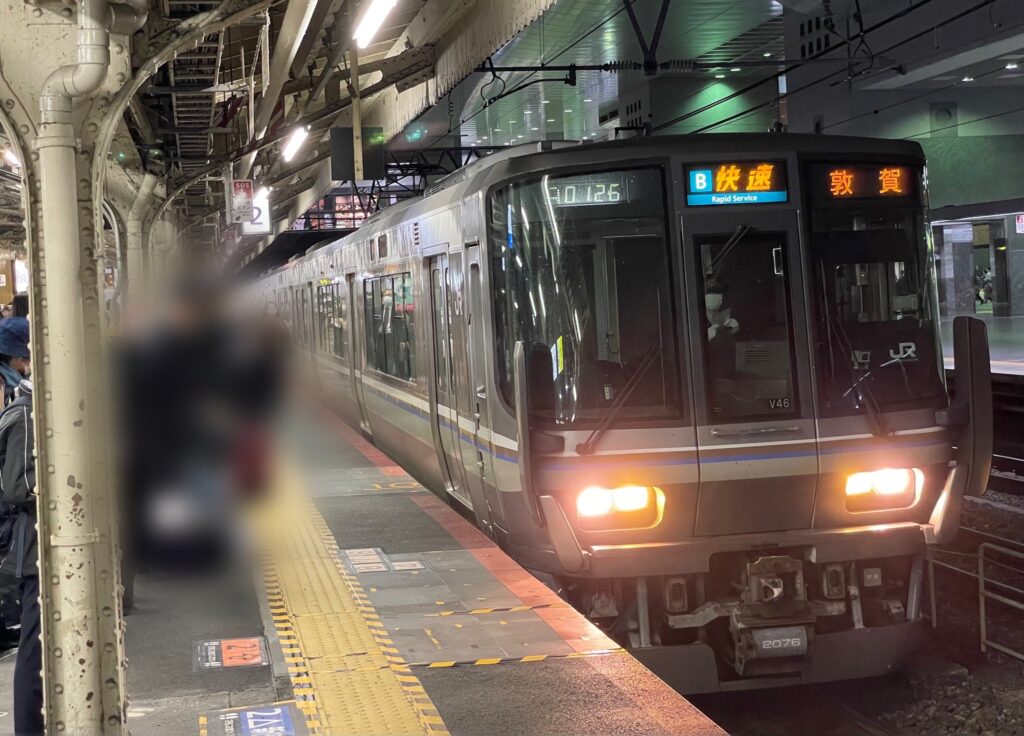 快速が京都駅2番ホームに到着です。
この時間は通勤・通学時間帯のため、京都から堅田あたりまでは少し混雑しています。
The Rapid train arrives at Platform 2 of Kyoto Station.
This time is a commuting time, so it is a little crowded from Kyoto to Katata.
☆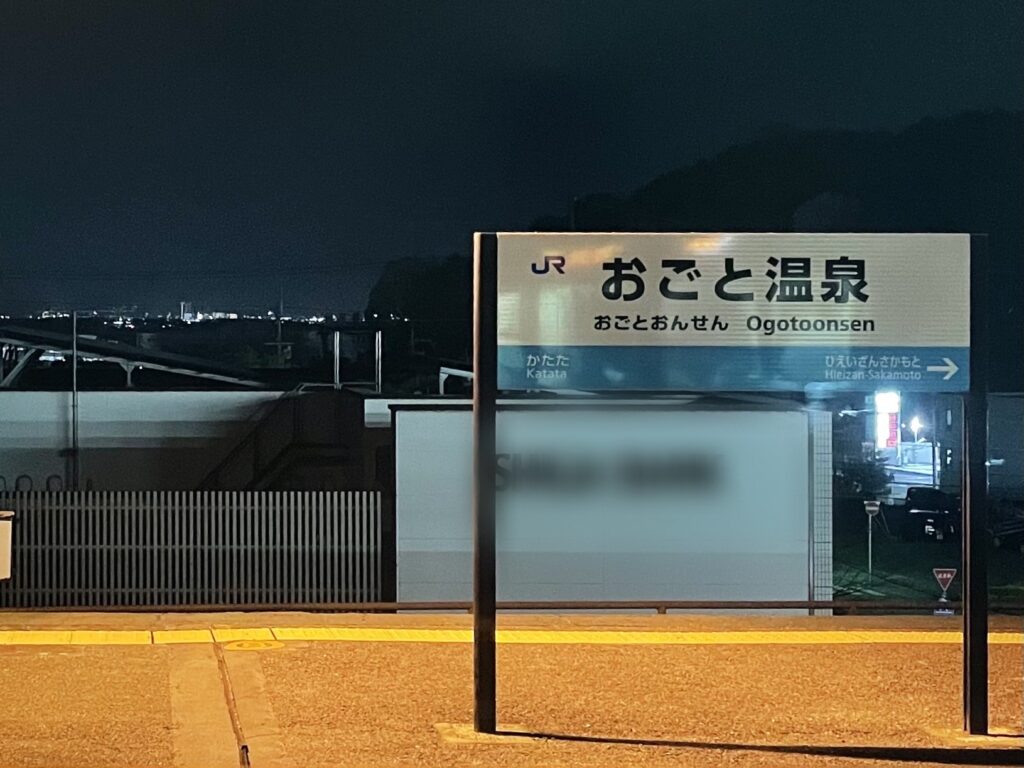 快速停車駅の「おごと温泉」駅です。
温泉旅館街は駅から離れており、周囲はご覧のとおり、静かな雰囲気です。
It is "Ogoto-onsen" station, which is a rapid stop.
The hot spring inn town is far from the station, and as you can see, it has a quiet atmosphere.
☆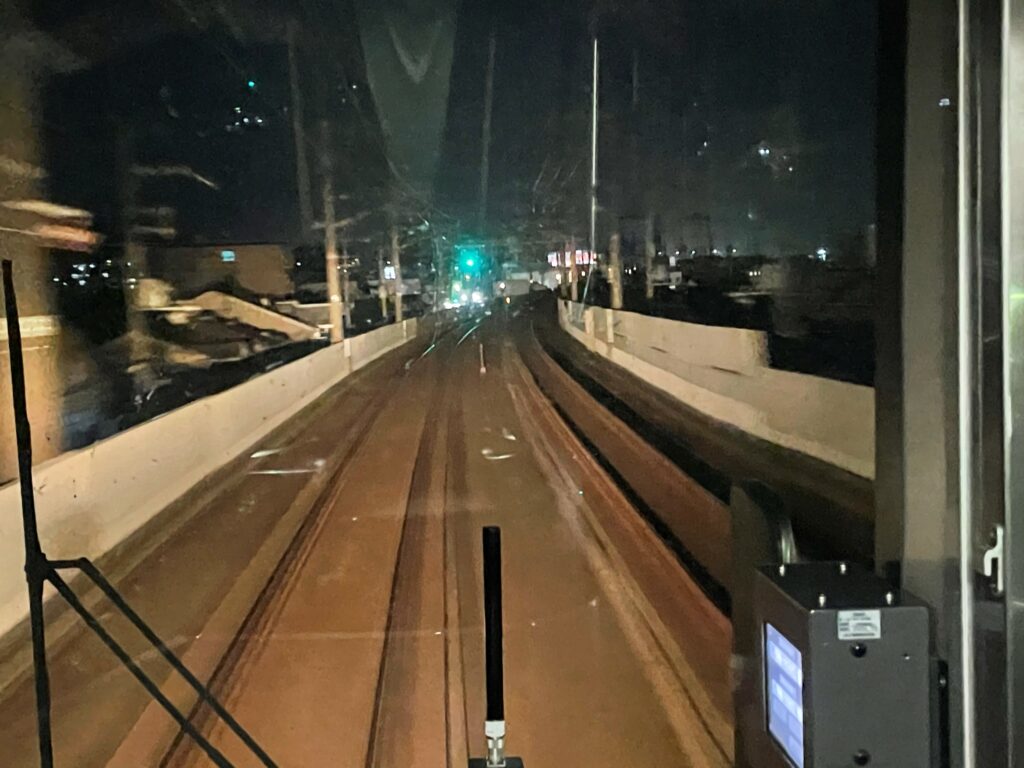 湖西線の高架軌道を走ります。
It runs on the elevated line of the Kosei line.
☆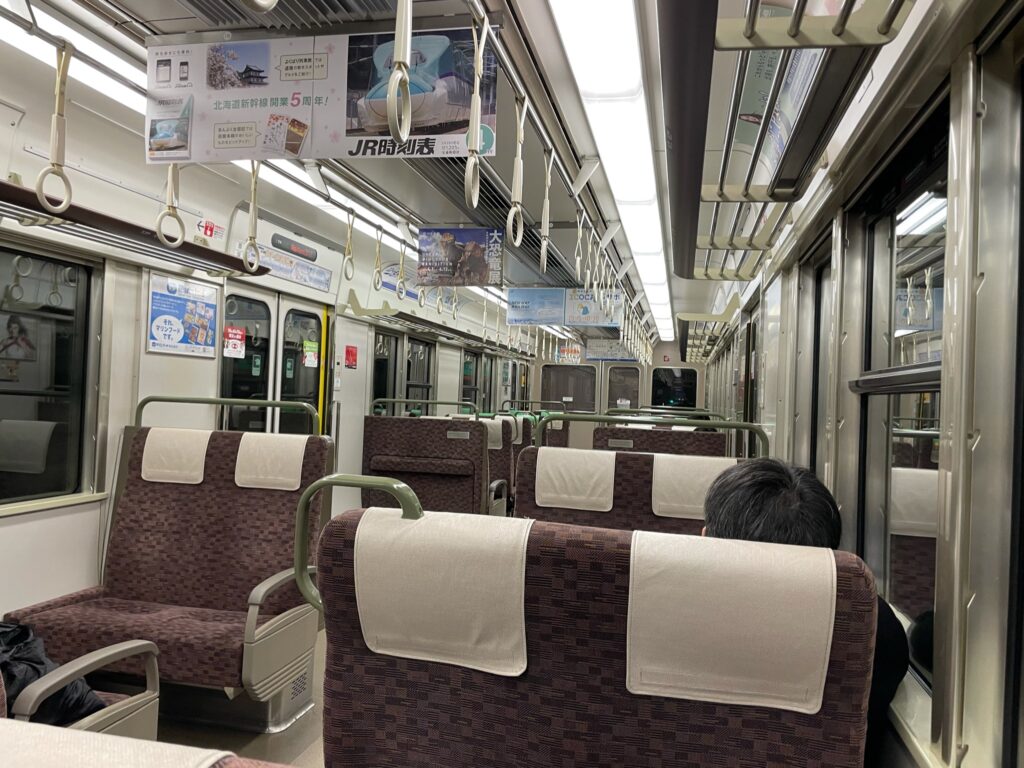 京都から約30分、近江舞子駅を過ぎると車内も空いてきます。
About 30 minutes from Kyoto, after passing Omi Maiko Station, the inside of the train will be empty.
☆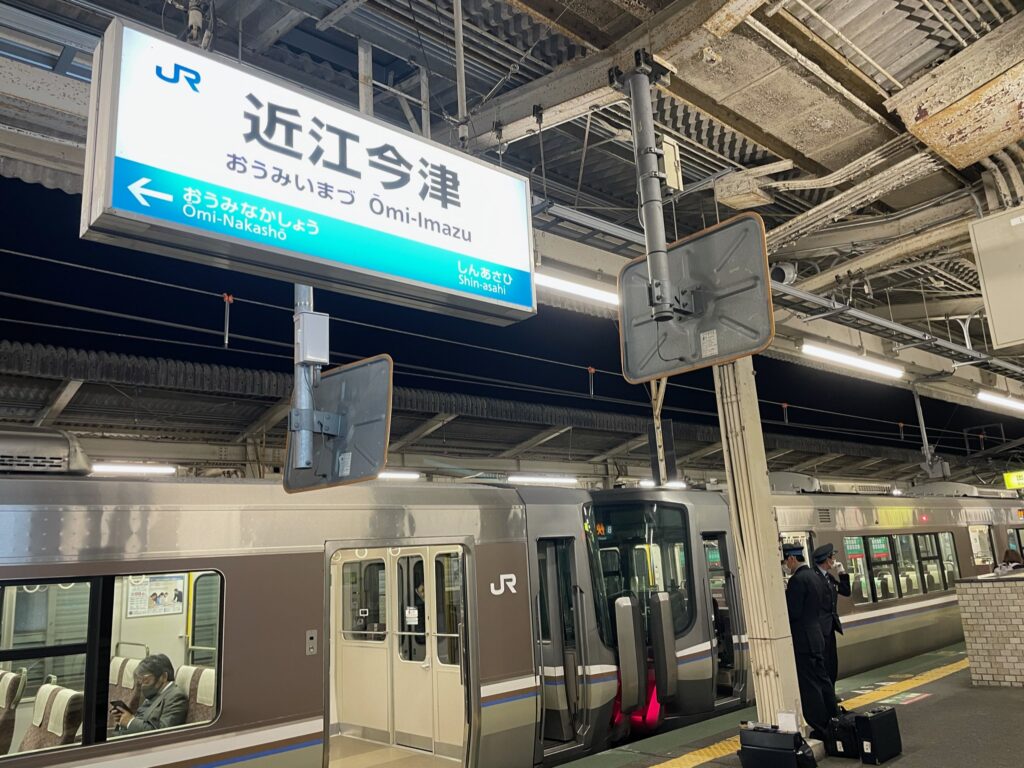 19:40。ここまで12両で来ましたが、ここで後ろ8両を切り離します。
19:40. It came with 12 cars so far, but here I will separate the back 8 cars.
☆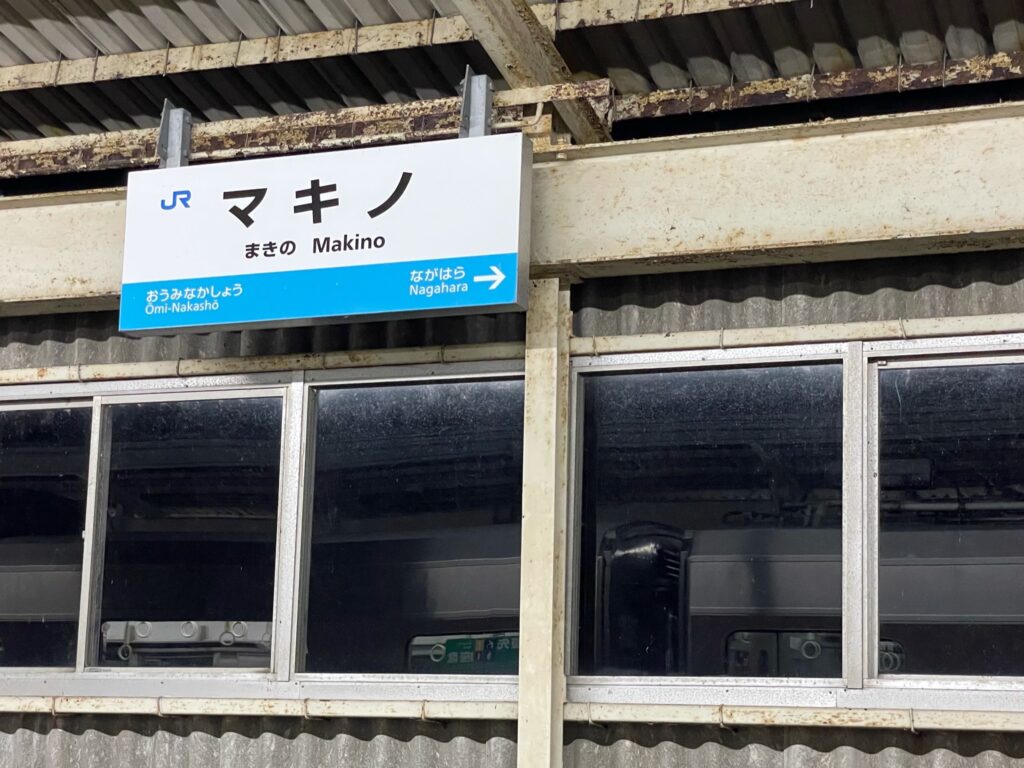 カタカナ駅名、「マキノ」です。
このカタカナ表記は、大阪府枚方市の「牧野」との混同を避けるためとのことです。
The name of the "Katakana" station is "Makino".
This "Katakana" notation is to avoid confusion with "Makino" in Hirakata City, Osaka Prefecture.
☆
湖西線区間の終点、近江塩津駅です。
この先は、ここで乗り換えて、米原方面に向かいます。
( つづく )
( to be continued )
ご拝読、有難うございました。
またのお越しを、お待ちしています。
Thank you for your reading this post.
I'm looking forward to your next visit.